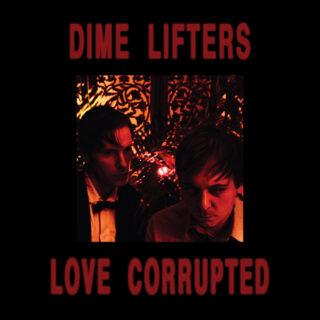 Dime Lifters
Love Corrupted
7/10
The first word that comes to mind when listening to this album by Dime Lifters, the new project from Toronto musicians Andrew Matthews and Kyle Knapp (of lo-fi post-punks Deliluh), is 'Lynchian', a term that's been overused into meaninglessness by lazy writers for a generation now. But to this lazy writer, it feels inescapable in this context: from the fluttering sax to the creeping portent beneath the record's upside-down ballads, one could genuinely mistake vast swathes of Love Corrupted for snippets of the soundtrack from Twin Peaks, the Canadian group's uncanny textures echoing around the Black Lodge while Kyle MacLachlan looks as if he might be about to shit himself.
It's both a charm and a limitation of the album, at once such a clear influence as to prevent Dime Lifters from accessing a truly distinctive or original sound, and an admirable exercise in taking genre and form seriously, attempting to feel around the edges of a very well-defined aesthetic in order to find ways to subvert it. The best moments here are those in which Dime Lifters emerge from the art-house fog with a clear hook: 'As Far As You Get', for example, evokes a slow-motion Jesus and Mary Chain at their keening best, while the cavernous 'Walls of Love' marries a Morricone-like sense of collapsing grandeur with a wonderfully sinuous melodic structure; it's the album's freshest-feeling track, Dime Lifters hinting at a sound that's truly of their own for the first time.
The influences of fellow Canadian experimentalists like Ian William Craig and Women are also audible, in the pervasive noise and faraway vocals of the record respectively. What we're left with is an undeniably derivative piece of work, but that's not meant entirely as a criticism, because it does feel like at least part of the point. Love Corrupted is a diverting – and genuinely enjoyable – experiment from two very capable, literate artists, and perhaps its greatest success is that it manages to find room within those hard stylistic boundaries to suggest that there is potential for real expansion of the Dime Lifters project next time around.
Free Protomartyr flexi disc with this month's magazine
Subscribers to Loud And Quiet now receive a limited edition flexi disc of a rare track with their copy of the magazine
This month's disc is from Detroit punk band Protomartyr