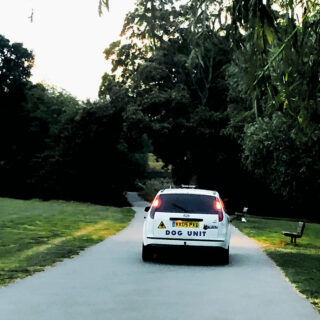 Dog Unit
Turn Right and Right Again
8/10
Pop music is great and all, but every now and then, the words, they get too much. In a world of increasing volume, sometimes all we need is the humble instrumental; a soothing escape from the human voice.
London four-piece Dog Unit understand this completely. Turn Right And Right Again is a Wordless Rock™ delight. The EP masterfully toys with generic song structure while retaining a real sense of fun, swiftly avoiding any self-indulgence in the process.
 'Absolute Unit' travels deep underneath the groove. The group's foreboding psychedelia rolls on slowly into the abyss. The track builds and builds, raising the tension in the room until everything explodes. This is when the magic really happens. In the click of the finger, the krautrock soundscape transforms into a glorious heavy metal chugger. If WWE had any sense they'd be snapping the rights up to this churning monster ASAP. 
From here 'Pyramid Scheme' takes things to a more optimistic place. Grinding guitars are washed away by a real sense of euphoria; strolling tom drums lift sparkling, shoegaze guitars up into the stratosphere and beyond. If "astral" had a sound, this would be it. 
Like everything on the EP, finale 'Turn Right and Right Again' works its way up from the bottom to the top. It's all about the build with this group. And yet despite this obsession with musical inclines, nothing overstays its welcome. The track forgets all about the shoegaze textures deployed elsewhere in favour of riotous hallucinogenic road trip. Drifting, reverberated guitars drive the listener from humble beginnings into the heavens at the sweep of an echo chamber. 
In favouring the build over simple verse/chorus/verse structure, Dog Unit manage to keep things extremely fresh for the duration. By taking influence from electronica, krautrock and shoegaze, the band to rid themselves from the shackles of genre, freeing them up to go wherever the hell they want.
Words? They're overrated.