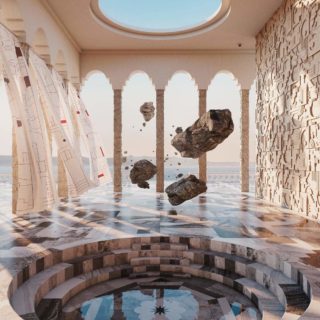 Efterklang
Altid Sammen
(4AD)
6/10
While not exactly constituting a severe fall from grace, Danish outfit Efterklang have had a career of diminishing returns since their mid-2000s heyday. Bar their fruitful partial side-gig as sincere soft rock pastiche project Liima among their number, each underwhelming main output release has mostly served to prove their prowess as a formidable live group, completed with an expanded line-up and musical extrapolations to match.
One wonders how Altid Sammen might alter in such a setting. For the most part (the driving arpeggiation and plinking synthetic drums of 'I dine øjne' and 'Under broen der ligger du' notwithstanding), the trio have largely done away with electronic aspects in favour of amplified or manipulated baroque and modernist approaches. Harps, woodwind, and strings swoop into one another in a great Reichian polyrhythms on 'Supertanker', simmering down to accompany a delicate organ lament on 'Hænder der åbner sig'. The 7 lavish minutes of 'Hold mine hænder' rank among some of Efterklang's loveliest work, lovingly rounded with warm horns and a circular harp phrase invoking a perfumed bath you'd love to sink into.
But Altid Sammen still lacks in a certain edge, despite not lying an infinite distance away from the glitch-laden melancholia of the group's 2004 debut Tripper; this, their fifth release, seems somewhat deflated as a result of some key removals. The clinical sheen of bands cursed with the dubious neoclassical label, of which Efterklang were undoubtedly a part, were able to offset its haughtiness with an injection of modern technology; a skitter of digitised percussion here, an erratic pad burst there. Consider another group bearing that black spot, wrestling with the genre's borders after a long hiatus: These New Puritans. Where the Southend-on-Sea brothers exceed — encapsulating the OTT inferno of an indie rock show comparable to a particularly enthralling night at the opera — Efterklang come off a touch less dramatic in comparison. Where's the fun in that?
New monthly memberships available
Here's a new thing: our membership scheme now has a pay-monthly option, plus a load of exciting new digital stuff for people who support what we do. It's actually excellent value, honest, and will help us continue to promote new independent artists and labels.
Sign up and you'll receive our physical magazines delivered to your door, our digital editions, exclusive podcasts and playlists and access to our EXTREMELY glamorous Members Lounge. You'll be the envy of all your friends.