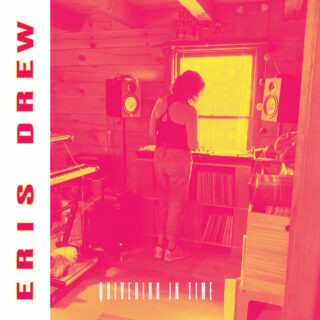 Eris Drew
Quivering In Time
7/10
Each time the 'Think' break is reused – that six second 'Yeah!' and the 'Woo!' – it gets a little more powerful. James Brown and his bandmates could have no idea that an improvised moment of ecstasy during a jam would become so ubiquitous. Each new appearance adds to the cultural lineage, melding with the listener's own personal memories from the times we've heard it blasting out of club speakers. When Eris Drew drops the 'Think' break on 'Ride Free' from her debut album Quivering in Time, she pulls the past into the present moment, with all the sweaty physicality of a great dance record.
Quivering in Time is a joyous house release from an artist who's already earned veteran status as a DJ. Eris Drew sets use the same approach of pulling the past into the present, with nineties D&B drum breaks, '70s dub reggae, early techno hits and unearthed house gems all mixed playfully. Her new record is as inspired by those classic sounds, while taking a warmer and more reflective approach to dance catharsis. Written after a move to rural New Hampshire with her partner and fellow T4T LUV NRG label head Octo Octa, the album uses the comfort of its home-recorded approach to its advantage. 
Like her live sets, the record is built on giddy loops and infectious sampling. The momentum of 'Loving Clav' is unstoppable across its nearly seven minutes, live drums and breakbeats bouncing off against an earworm organ melody. 'Pick 'em Up' is another highlight, with Drew finding new ways to elevate the energy with constant switch-ups and a freeform approach to production. There's a liveness to each record scratch and sample flip that makes the album play like a particularly finessed DJ mix.  
Quivering in Time is the kind of dance album that feels instantly familiar, and Drew is content to just keep the good vibes going rather than surprising us. That occasionally leads to a feeling of repetition across its runtime, but the grooves are felt regardless. Drew's true skill and showmanship lies in her ability to make familiar moments like the 'Think' break feel as fresh and uplifting as the first moment you heard it.
Free Protomartyr flexi disc with this month's magazine
Subscribers to Loud And Quiet now receive a limited edition flexi disc of a rare track with their copy of the magazine
This month's disc is from Detroit punk band Protomartyr