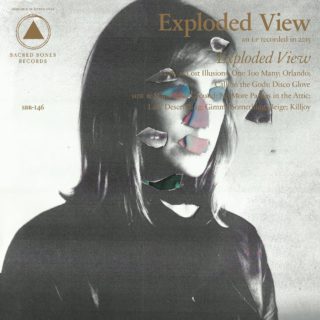 Exploded View
Exploded View
9/10
In 2010, British-German singer Annika Henderson – styled Anika – released a debut LP that was unmistakably the product of both her Teutonic ancestry and her Bristol environs: krautrock-cum-trip-hop paired with vocals so tonally deadened they could have made Nico blanch. If that album and its follow-up EP were fantastic but unflinchingly claustrophobic, 'Exploded View' sees Henderson stepping beyond her synth-driven confines with a full band and an album of fully-improvised, first-take-only songs recorded straight to a Tascam eight-track.
It's a bold risk but a handsomely rewarded one, expanding the Anika palette beyond the monochrome of old without fading its deepest blacks. That said, Henderson still sounds almost scarily dispassionate and a sense of grim foreboding envelopes the whole record, with opener 'Lost Illusions' sounding like an accompaniment to animalistic violence, sex or some combination thereof. Though 'Orlando' is perversely danceable and album high point 'Stand Your Ground' is as tuneful as it is harrowing, make no mistake: this is rock music in its most dark and instinctual form.
Loud And Quiet could do with your help
We love making Loud And Quiet – our magazines, this website, our podcasts and more – but it's become increasingly difficult for us to balance the books.
If you're a reader who'd like to help us keep the show on the road, please consider becoming a Loud And Quiet member. There are options to receive our physical magazines and lots of other extras that are exclusive to our supporters.