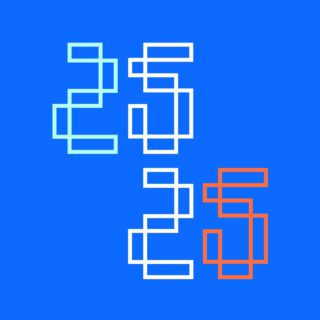 Factory Floor
25 25
(DFA)
7/10
It took Factory Floor eight years to arrive at their debut album and it was worth the wait. After some personnel changes and transitions between guitar-based post-punk, bludgeoning industrial and signal-jamming electronica, the trio seemed content to settle on stampeding from the fringes straight to the centre of the dance floor.
Maybe it was the discordance, the malevolent directness, or the violent satisfaction that throbbed just beneath some of the cold, sequenced machinations, but it made 'Factory Floor' a brilliant, often brutal, exercise in treading a fine line between repetition and monotony. It was the sound of empty rooms and angry servers powered by dark, dancing circuitry; hi-hats in perpetual motion; synths bubbling up from cracks in the ground; hologram vocals bleeding in from the ether. It took sparse elements and used them to punishing effect – tracks like 'Two Different Ways' and 'Here Again' looped, locked and set on a black march into a techno dungeon abyss.
Two years later, and one member down, Nik Void and Gabriel Gurnsey are Factory Floor recalibrated. They talk of exploring new set ups, playing with unfamiliar gear and working through "transition" and "adjustment", presumably associated with adapting to life as a duo. It's an understandable shift but it's also one that's come with a palpable tentativeness – less pummelling, more perfecting.
It means that '25 25' lacks some of the beats per minute immediacy that made their debut so bleak and enthralling. But where this album doesn't have the jagged buzz of 'How You Say' or the same high BPM insistence of 'Fall Back', the low frequency murk of 'Ya' emerges with the twisted grin of Delicatessen-era Simian Mobile Disco, and 'Slow Listen' heads straight for the dance floor with busy pin prick hi-hats, 4/4 swagger and Void's airy vocals repeatedly dipping in and out.
It sets the tone for a follow up album that's lighter and brighter than their debut without diminishing the promise that these tracks could become larger than life in one of their incendiary live shows. But where 'Wave' feels closer to the offbeat tempo of 'Turn It Up', title-track '25 25' feels like a made-for-live monster with its straight modular rhythm pushing the band's familiarly sparse ideal. It's a juxtaposition that also surfaces on the slower, more abstract 'Upper Left' and the playful vocal plod of 'Relay' where raw intensity is sacrificed for something more exploratory.
Ultimately it makes '25 25' less of the fist-pumping, dark matter follow-up we anticipated but that doesn't matter too much – it's still an album that delivers the dead-eyed propulsion we expect. Bring on their next restless foray.
Please support Loud And Quiet if you can
If you're a fan of what we do, please consider subscribing to L&Q to help fund our support of new musicians and independent labels
You can make a big difference for a few pounds per month, and in return we'll send you our magazines, exclusive flexi discs, and other subscriber bonus bits and pieces
Try for a month and cancel anytime