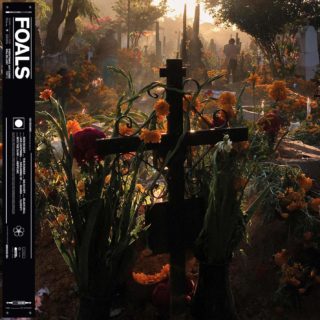 Foals
Everything Not Saved Will Be Lost Part 2
7/10
This year is a year done in sets of two. Forget Pete Doherty's cheeky appellation on Babyshambles' Prequel to the Sequel, or a long history of rap sequels outdoing their origin piece, what's more-often-than-not a dragged-out concept has had very few mishits in 2019. Big Thief released two of the year's best with a celestial opener and an earthy companion. Carter Tutti Void's Triumvirate was a lighter shade of Cosey Fanni Tutti's first solo album in 36 years released earlier this year. Now it's Foals' turn to take the baton from their former selves, with a follow-on from Everything Not Saved Will Be Lost – Part 1, carefully titled Everything Not Saved Will Be Lost – Part 2.
Gone are the soft "ooh"s of 'Sunday' and the earnest piano ballads of 'I'm Done With The World (& It's Done With Me)', that faded out Part 1 so endearingly. It's the last alt-indie heartbreak anthem you'll hear from the band who have now promised us something heavier. But still, the twanging instrumental opener 'Red Desert' hints at the old Foals, floral shirt buttoned down, teasingly ready to come dancing down the gameshow lift and take its previous half to a semi-forgettable holiday.
Then the singles kick in: prog-tinged 'The Runner' has already become an anthemic rock song that's really hard to dislike, laced with all the better tropes of modal pop music. 'Black Bull' is as screamo as Yannis Philippakis's vocals have ever been, slowly building into a sludgy electric fist pumper that rhymes the fermented green tea-based drink "kombucha" with "future" and "suit ya". The neon groove of '10,000 Feet' offsets a couple of slightly more pastiche moments where guitars stay gridlocked to '80s rock'n'roll fuzz. It's album closer 'Neptune' that contains many of the albums highlights and hiccups within its indulgent ten minute skeleton. The most interesting melodies come with twee stadium rock backing vocals; the lyrics are at their most spurious as the instrumentation is at its most adventurous and sprawling.
The best accomplishment from this two-part thriller is Foals' lack of hamstrung attempts at evolution. You'll be unrewarded if you're looking for Antidotes or Holy Fire in many of these twenty Everything Not Saved tracks, but across them they've made a respectable run and jump at becoming an arena-sized band, and not lost that misfit indie edge that first launched them into orbit.
New monthly memberships available
Here's a new thing: our membership scheme now has a pay-monthly option, plus a load of exciting new digital stuff for people who support what we do. It's actually excellent value, honest, and will help us continue to promote new independent artists and labels.
Sign up and you'll receive our physical magazines delivered to your door, our digital editions, exclusive podcasts and playlists and access to our EXTREMELY glamorous Members Lounge. You'll be the envy of all your friends.