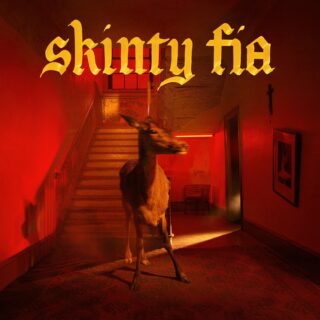 Skinty Fia has two meanings. One refers, via a literal translation, to the extinction of the Irish deer; the other acts as the Irish-language equivalent of "for fuck's sake". For Fontaines D.C., the phrase evokes the sentiment and kinship of their culture, and that's poetic when you consider the band's success and trajectory; the path that's taken them to get to Skinty Fia.
If their debut album Dogrel was a love letter written in and to Dublin, and follow-up A Hero's Death a dissociated masterpiece, written on the road as the band navigated being away from their home turf, then Skinty Fia is a self-assured amalgamation of the two. Channelling their achievements so far and combining them with a desire for expansion, Skinty Fia also doesn't forget where it came from.
An ode to Ireland, the record found its inception in the band's homes, where they spent their respective lockdowns. Their individual experiences created a handful of idiosyncratic ideas, and when added to the creative growth that you'd hope would come two albums in, their third record is an emotional and transformational force. 
The album opens with the unmistakable 'In ár gCroíthe go deo', meaning "in our hearts forever". A solemn, hymn-like starter, shrouded in gloom, the track communicates the general tone of Skinty Fia, which is far slower and darker than their previous full-lengths. Lazily, you could pin this on maturity, but the sheer understated grandeur of the album speaks volumes of the talent that's been inherent in this band from the start. 'Bloomsday' is affecting alt-country; the long and winding. 'Roman Holiday' is equally as beautiful, mentioning the album's namesake and a conundrum of "Get along, get alone". It's one of the record's many breath-taking moments, suffused in melancholy, with distorted backing vocals and aching, Cure-like guitar riffs; they manage to capture the emotions of the distant and familiar masterfully.
The record's impressive title track is punctuated with not-quite-there breakbeats, simultaneously reminiscent of drum and bass, industrial music and trip hop, but also not completely recognisable as any of these; topped with Grian Chatten's intimidating vocal delivery, it's the band's most experimental track to date. With 'Nabokov' stuttering as the album's closer with disjointed chords and choral harmonies, the remarkable nature of Skinty Fia really comes to a head. Fontaines D.C. have created an epic that keeps on progressing throughout, pushing way beyond their previous boundaries.
Free Protomartyr flexi disc with this month's magazine
Subscribers to Loud And Quiet now receive a limited edition flexi disc of a rare track with their copy of the magazine
This month's disc is from Detroit punk band Protomartyr