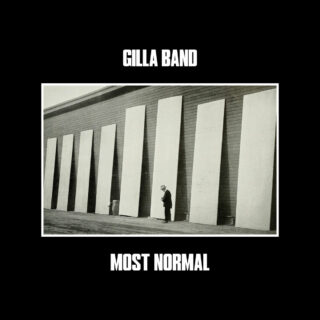 Gilla Band
Most Normal
8/10
In 2018, Low released Double Negative, an album that took people by surprise with its masterclass in deconstructing conventional song structures and utilising various devices to build texturally rich songs that provide a new kind of listening experience. It opened audiences to the idea of the studio being more than just space to record, but an integral ingredient in shaping the overall atmosphere of an album. At the time of that album's arrival, Dublin-based noise-rock-meets-techno-loving quartet Gilla Band (formerly Girl Band) were on the cusp of releasing their second LP The Talkies. It heard the group successfully play around with this concept of shading the arrangements with the space in which they recorded the material; which, on that occasion, was a historic mansion in Ireland. Subsequently, the essence of the estate is ingrained in that marvellous body of work; it's eerie and unsettling, claustrophobic and cathartic. 
Similarly, their third record Most Normal continues to expand upon the idea of making their music as multi-faceted and multi-functional (more on that later) as possible. Recording began in December 2019 and, to further eradicate the pressure of working to the operating hours of a studio, the band invested in buying recording equipment to afford themselves the time and freedom to continue developing their idiosyncratic style. The result is a tremendous blend of the weird and sublime, from everyday annoyances with Ryanair to "shit clothes", absurdist anecdotes and affecting self-assessments ("There's a point where I stopped being cute / There's a full stop on my youth") in singer Dara Kiely's ever-engaging and entertaining lyricism which is perfectly suited to the densely layered soundscapes.
Now a decade into their career, the quartet set a solid (and loud) tone for their trajectory.  It's fascinating to see how promptly Gilla Band inspired a mutiny of budding musicians in their wake and how bassist Dan Fox has become a go-to producer amongst emerging bands in recent years. Musically, Gilla Band have always snarled and growled with the intensity of a dragon breathing fire in a fantasy film. Fantasy feels like one of the more appropriate terms to describe the feeling their music conjures; it's impossible to not let your imagination go wild when taking in the wailing guitar riffs, submerged in a sea of distortion,  or Adam Faulkner's thunderstorm-like shattering beats. This penchant for noise remains intact across Most Normal, particularly when they unceremoniously announce themselves on spectacular, stomping opener 'The Gum', which thuds with great tenacity before shifting to a bizarrely sweet outro reminiscent of Daniel Johnston's lo-fi instrumentation. As well as Johnston, there are instances where Most Normal heralds melodies and timbres from the most unlikely acts. 'The Weird', for example, feels like Gilla Band's take on 'The Rat' by The Walkmen, while the influence of The Strokes' earlier output is audible on the propulsive 'Almost Soon', the quartet taking us to places we weren't prepared to venture. Elsewhere, and in some of the album's most impressive and captivating moments, it's impossible not to think of the aforementioned Low and their masterpiece Double Negative. See the crackling distortion on the mesmerising instrumental 'Gushie' – which also contains echoes of Stereolab or Broadcast in the rippling central motif – or the propelling effects that dominate 'Pratfall' before the weighty fuzz swallows the arrangement. 
The prettiness underpinning 'Gushie' is still usurped by unrelenting tension and explosive release, both in the instrumentation and Kiely's vocal performance, and that's fitting: as well as an exercise in witty lyricism and inventive arrangement, this record is an exploration of sound design. Multi-functionality was mentioned earlier; this is unquestionably a record to listen to via headphones to fully absorb the intricate recording techniques employed throughout. Notably, the panning of Fox's bass as it goes between left and right ears at a dizzying rate on 'Backwash' or the high-pitched frequency incorporated in the opening of 'The Weird', a sound Gilla Band fans will be accustomed to filling their ears when leaving one of their shows. Those frequencies, along with the abrasive hum that serves as a bridge between 'Praftfall' and closing track, 'Post Ryan' acts as a sort of endurance test to the listener. How much aural discomfort can you take before you have to step outside of this world and protect your senses? Across Gilla Band's releases, this testing of the boundaries – both sonic and lyrical – often results in resonating material with the capacity to unify individuals who perhaps felt like they could never fit in, whether it was because of their clothes or unshakable insecurities. However, when you stick on your headphones and press play on this music, you cannot help but feel welcomed into their wonderfully strange world.
Please support Loud And Quiet if you can
If you're a fan of what we do, please consider subscribing to L&Q to help fund our support of new musicians and independent labels
You can make a big difference for a few pounds per month, and in return we'll send you our magazines, exclusive flexi discs, and other subscriber bonus bits and pieces
Try for a month and cancel anytime