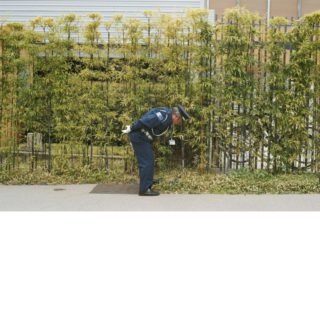 Gold Panda
Good Luck And Do Your Best
8/10
Few capture contented loneliness quite like Gold Panda, but the misty-window isolation that helped make 'Lucky Shiner' and 'Half of Where You Live' so brilliantly introspective feels a little different here. After the glitching melodies and bright, busy eclecticism of his debut, and the Orient-inspired, analogue imagination of the follow-up, album number three is Derwin Panda's most optimistic to date.
Perpetually inspired by time spent in Japan, he might have lifted 'Good Luck and Do Your Best' from a Hiroshima taxi driver's farewell, but the understated positivity behind that sentiment characterises the entire record.
You hear it in the rhythmic crackle of opener 'Metal Bird'; in the slow, plaintive sigh of 'I Am Real Punk'; and in album closer, 'Your Good Times Are Just Beginning' – a track with the feel-good keys created to make any Sunday comedown a bit more bearable. It's arguably Derwin's clearest attempt at exuding straight-up happiness, but even with this new, relaxed clarity, there's still a pragmatism that stems from his familiar take on the ephemeral: a constant sense that this private introspection will always be uninterrupted.
Still, there's an art to capturing serenity, and both 'Autumn Fall' and 'In My Car' are beautifully understated in their upbeat simplicity. Built around boom-bap beats, playful keys, synthesised strings and subterranean 'womps' they coalesce to create little slithers of head-nodding happiness. 'Haylards' is equally endearing, ebbing and flowing with a dulcet, dub-techno ambience that could go on for days before lead single 'Time Eater' switches the pace with ricocheting beats and busy rhythms to break up the peaceful pace of the album's slower jams.
In that respect, 'Good Luck and Do Your Best' is also Gold Panda's most complete release. As 'Lucky Shiner' bounced from the positivity of 'You' to the 8-bit jerk of 'After We Talked', and 'Half of Where You Live' shifted from the itchy shuffle of 'Junk City II' to the plunge-pool depth of 'S950''s analogue textures, this record feels fluid and connected.
'Unthank' might be the only misstep, but with subtle contrasts between the Zen-like state of 'Pink And Green' and the soft dub of 'Chiba Nights' it's left to the skittish percussion, off-beat bongos, and clipped vocals of 'Song For a Dead Friend' to step out of relaxed line. Ultimately this is Gold Panda's soft groove; a ground level to the high-rise, an 'Alone in Kyoto' silver-screen version of city seclusion; the personal postcard he's hinted at but never written out in full.
This time, though, we've got the full picture of wandering through Japanese cities, admiring the light and the pink haze, deftly spinning those happy fleeting moments into warm cherry blossom odes. And when the end result is as strong as this, luck doesn't even come into it.
Free Protomartyr flexi disc with this month's magazine
Subscribers to Loud And Quiet now receive a limited edition flexi disc of a rare track with their copy of the magazine
This month's disc is from Detroit punk band Protomartyr