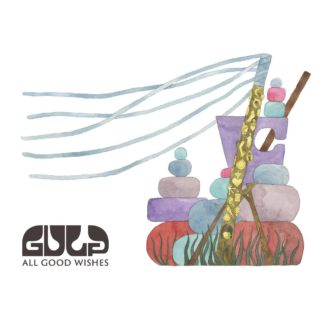 On their second album, Gulp – formed by Super Furry Animals bassist Guto Pryce and collaborator Lyndsey Leven – create a psychedelia that struggles to live up to its influences and ambitions. 'All Good Wishes', the follow up to 2014's well received 'Season Sun', was inspired by Pryce and Level's relocation to Scotland – cue pastoral themes of the natural world and imagery of sunlight and sea emerging consistently across the record. In their analogue synths and b-movie innocence, Gulp are looking to a lineage that includes Broadcast and Stereolab – unfortunately, a lack of adventure and occasionally will-this-do lyricism delivers a record that fails to match the output of similarly minded contemporaries such as Jane Weaver and Whyte Horses.
The reverb pop of 'I Dream Your Song' is one of the stronger moments here, an eerie folk melody refracted through gorgeous sawtooth synths. All too often, however, tracks struggle to deliver on their early promise – take 'Morning Velvet Sky', which begins with a fine disco-not-disco groove, but without any real hooks or sonic invention, it folds into something altogether underwhelming.
Super Furry devotees will still find plenty to enjoy – Gulp are at their best when at their most ambitious, be it the throbbing Kraut noir of 'Beam' or the dreamlike title track, which sees Leven's vocals brilliantly ghost the wintry soundscape. The production is glowing and cinematic, bringing to mind Vangelis or Morricone at his most lounge, but the overall effect is less one of transcendence, and more one of landfill psychedelia.