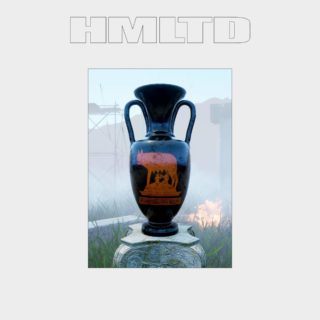 Many of the tunes on HMLTD's debut album, West of Eden, have existed in some form over the last three years. The story is such: a little-known band called Happy Meal (abbreviated to "HM" only to be lengthened again with a "Limited" suffix) sign a big major label deal, release their best songs and instantly retract them again, in place of a slightly underwhelming hype EP, Hate Music Last Time Delete. They then retract the major label contract, too, still with an arsenal of unexploited live and cult favourites, free from legal complication. 
In the school of false starts, HMLTD, as lawyers no doubt insist they are called now, have long been that band on the cusp of a debut album since their inception. West of Eden is exactly what the devotees wanted – a subversive preservation of the dystopian disco to the tune of Wooze and Sweat that's heard through the drippy residue of the Brixton Windmill walls. Danky clubbers unite under the faux gaze of "irony with a capital 'I'", and continue the bravado to the promised land, of sorts. "West of Eden" is the new interface for "East of Eden", the land where Cain was banished in a vengeful Old Testament. Moral questions of Cain's Biblical atonement parallel the current West's fazed inability to save itself from the self-aggrandising cuddle of capitalism.
The realities are quite different. The most potent takedown of the aforementioned major label days and the music machine's thrall was the first single, 'LOADED' ("I sold my soul to the devil tonight 'cause I was pretty fucking poor"), but it sounds a bit like The Killers on an adrenaline fix. Elsewhere the clip-clopping desert sprawl of 'Calamity James' is Khruangbin with a battle cry, leading seamlessly into the ever-present 'To The Door' – a twanging dose of Tarantino and still their best song. The one-two of 'Joanna' and 'Where's Joanna?' is an ominous murder ballad of repression, toxic masculinity and – you guessed it – dismemberment. Otherwise, their patchwork labyrinthine stories are only mostly enthralling – the whole piece doesn't quite match the promises of full technicolour. 
Free Protomartyr flexi disc with this month's magazine
Subscribers to Loud And Quiet now receive a limited edition flexi disc of a rare track with their copy of the magazine
This month's disc is from Detroit punk band Protomartyr