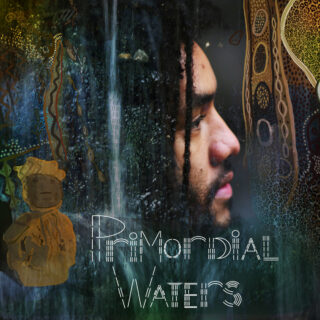 Jamael Dean
Primordial Waters
5/10
Jamael Dean's first album, Black Space Tapes, was a blink-and-you'll-miss-it blast of hip-hop/jazz fusion, breathless and restless and brilliantly immersive: in just six tracks and 37 minutes, the LA piano prodigy appeared all over his hometown's musical map, lacing ecstatic vocal runs with splashes of rap and sampladelic juxtaposition, before snapping you out of it like waking from a daydream, stunned at the audacity of it all.
Following it up was always going to be a tall order, and granted, sometimes the most admirable reaction to making a masterpiece is to do something entirely different next. Even so, it's disappointing that Dean has decided to reject quite so much of his debut's character on his second album, which is nearly three times as long and contains virtually none of the verve or bravura approach of before. In its place, we get essentially two records in one: the first ten tracks are West African-inspired boilerplate cosmic jazz, perfectly serviceable and technically impressive in small doses but infuriatingly samey at length, with scant variation in tone, timbre, pace or volume, to the extent that when the first moment of interest arrives, 55 minutes in, 'Galaxy In Leimert''s rather gorgeous swinging lament is nearly lost in the soup. The second ten, of woozy experimental boom-bap hip-hop, is far more encouraging. Raps recalling the edgy claustrophobia of Odd Future are spun between Dilla-esque beats that refuse to do what's expected of them, and the set has an oddball, syrupy cohesion to it.
Flickers of Dean's early genius bubble up here, most clearly on the languorous, rhythmically addictive 'Thicket', but when he asks on the penultimate song, "Was it worth it in the long run, when it's over will you like the way the song's sung?", you're forced to conclude that on balance, after sitting through nearly 100 minutes of wildly variable fare, probably not.
New monthly memberships available
Here's a new thing: our membership scheme now has a pay-monthly option, plus a load of exciting new digital stuff for people who support what we do. It's actually excellent value, honest, and will help us continue to promote new independent artists and labels.
Sign up and you'll receive our physical magazines delivered to your door, our digital editions, exclusive podcasts and playlists and access to our EXTREMELY glamorous Members Lounge. You'll be the envy of all your friends.