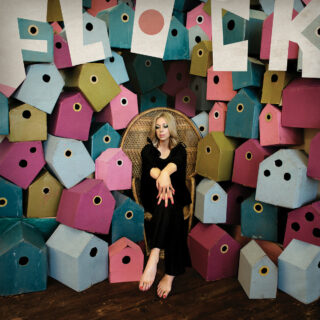 Jane Weaver
Flock
(Fire)
8/10
Recent years have seen Jane Weaver push into spacier territory. 2019 saw the release of Fenella, a reimagined soundtrack for a 1980s Hungarian animation, as well as ambient remixes of her two previous solo albums on Loops of the Secret Society. Her new album Flock is intended as a self-conscious away from those abstract releases and towards more straightforward pop music – though of course, as a Jane Weaver record, that doesn't preclude self-professed influences from 1980s Russian aerobics videos and Lebanese torch songs.
The album makes good on that promise. Outside of the interlude 'Lux', which is all new-age chimes, Kaitlyn Aurelia Smith-style vocal looping and an extremely Tangerine Dream synth flute, every song here will try and stick in your head – and will probably succeed. A particular highlight is 'Sunset Dreams', a psych-pop tune with a head-nodding bassline which will have you missing the summer that never was.
But for all its retro stylings, Flock is a record which is invested in the production of a better future. Weaver has a clear-sighted sense of genuine optimism which doesn't neglect the seriousness of the issues that she deals with. On 'Modern Reputation', she's accompanied by a bittersweet 303 as she spins an argument for genuine change. "How many heartaches must we feel? Want to smash the patriarchy, I'm tired of your industry… We must invent some new ideas," she sings, and you feel like if we put Jane Weaver in charge things could actually get better.
New monthly memberships available
Here's a new thing: our membership scheme now has a pay-monthly option, plus a load of exciting new digital stuff for people who support what we do. It's actually excellent value, honest, and will help us continue to promote new independent artists and labels.
Sign up and you'll receive our physical magazines delivered to your door, our digital editions, exclusive podcasts and playlists and access to our EXTREMELY glamorous Members Lounge. You'll be the envy of all your friends.