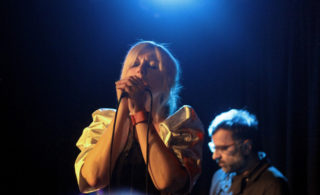 Jane Weaver's London show was a reminder that she's from the North, not outer space
The Bacofoil-clad singer's first tour of new 'Modern Kosmology' material
For all her otherworldly musical affectations, Jane Weaver is unmistakably a product of Northern England. "I feel like I've been vacuum-packed in that top," jokes the Manchester-based singer, tossing away a ruffled silver ruffled affair almost immediately after getting up on stage. "Bacofoil!"
The sight of a four-piece backing band full of normal-looking blokes also acts as an earthly counterpoint to the space age motorik material on Weaver's new LP 'Modern Kosmology', although much of the set list soars all the same. Recent single 'Slow Motion' takes flight thanks to layered synthesiser earworms. Another new track, 'The Architect', sounds like a future fan favourite, jetting skywards on the back of propulsive guitars and Weaver's treated vocals.
Given that the new album was released barely 72 hours before this performance at the Lexington, most of the crowd aren't yet clued up on the songs – and Weaver herself is reading from some crumpled-up lyric sheets on her keyboard – but each one closes with an encouraging cheer of approval. Still, the opening keys of 'Don't Take My Soul' during the encore provide some welcome familiarity and Weaver runs with it, romping right through six-plus minutes to a coda that seems to gracefully disintegrate. An interstellar performance for sure.
Jane Weaver live at The Lexington, London. 22 May 2017.
Photos by: Alex Hornsby
We're not being funny...
… but can you become a member please?
It's actually excellent value, and will help us continue to promote new independent artists and labels.
Sign up and you'll receive our physical magazines delivered to your door, our digital editions, exclusive podcasts and playlists and an actual bookmark, as if printing a magazine in 2021 wasn't old fashioned enough.
6-month and full year memberships are available now. Fancy it?