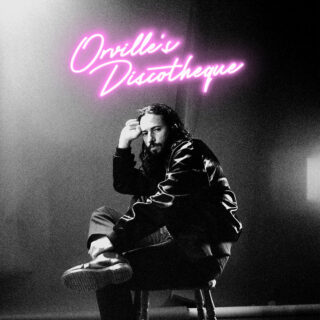 Jeremy Tuplin
Orville's Discotheque
9/10
ALBUM OF THE WEEK
It's not often you come across an album that shifts between throbbing hair metal-like synths, sumptuous electronic beats and sweet acoustic guitar riffs with lyrics about being a "disco Shakespeare", dreams and delusions pinned by Tarantino characters and regrets tinged with wit: "Could have stayed at home watching Strictly instead of having my heart destroyed". It's also impressive that this record, from Somerset singer-songwriter Jeremy Tuplin, throws so much colour at the canvas, with all the individual strokes complementing one another to make a really captivating (and remarkably cohesive) body of work. 
The overall concept of Orville's Discotheque draws inspiration from the Ancient Greek myth of Orpheus and Eurydice, with the central figures roaming the expansive world that Tuplin has developed with his Sad and Lonely Disco Band. Certainly, disco plays a significant part in the musicality of this excellent LP in its many stomping beats and vibrant synth arrangements. Yet, there are moments such as 'Wonderful Time' where chugging fuzzed guitar heralds Yo La Tengo met with Van Halen-like flashing synths; melding grunge with glitter. Elsewhere, Tuplin also engages with sentimentality on softer compositions 'Love Town' and 'Devil Dances'. 
Often, the combination of Tuplin's nonchalant cadence and astute comical lyricism evoke Jarvis Cocker on the Strokesian 'L.O.V.E.' and. Perhaps, most effectively on the richly-textured highlight, 'A Dancer Must Die' where the listener hangs onto his every word for the great rewards of lines like, "I thought I was invincible / But I'm just Leonardo di Caprio / A washed-up actor in that film about Hollywood".
Orville's Discotheque once again demonstrates Jeremy Tuplin's dexterity as a songwriter who has the ability to convey his brilliantly absurdist musings with great sincerity; musically, too, his enveloping arrangements are abundant with style.
Free Protomartyr flexi disc with this month's magazine
Subscribers to Loud And Quiet now receive a limited edition flexi disc of a rare track with their copy of the magazine
This month's disc is from Detroit punk band Protomartyr