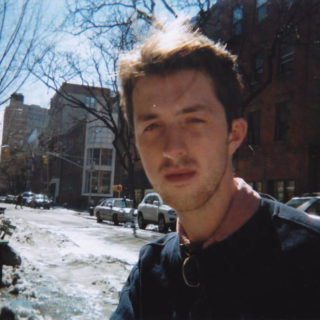 Jerskin Fendrix
Winterreise
9/10
Jerskin Fendrix is a polymath – a Cambridge-educated, classically trained pianist and violinist – but the kind of Renaissance man who seems to have hypothesised his worldly knowledge from a lifetime spent indoors, playing Tekken and marvelling at the studio soundtracks of PlayStation-era video game music, fantasising dystopian character studies macerated by a world that's slowly eating itself. His debut album Wintereisse walks a disorientating path – he's the one at the front, oil-lit lantern flickering with a Dickensian charm, beckoning you to come and join him.
There are ghost stories, of course, but instead of an actual ghost it'll be a braid of hair seeking revenge on an ex-husband. Next to that, it'll be a song about white rice balls wrapped in seaweed (why they're not sushi, and why they go so well in an 11th Century Japanese picnic). You'll be neck-deep in a coffee table book, rattling through a brief history of European sculpture, listening to every lyric from the B-Sides of Nick Cave, Rowland S. Howard and The Birthday Party, and none will help you understand it. Most of these songs have existed across live shows and hidden Soundcloud links for a few years now – during which time Fendrix has released a charity Christmas single with Black Midi and scored an experimental absurdist opera at the V&A entitled UBU – yet patchworked into his debut album of odd pop songs, it feels like the first time hearing many of them.
Winterreise (translated as "winter's journey") takes its title from Schubert's grief-stricken, desolate piano-led song cycle of the same name, in which a solitary traveller wanders far away into the cold, dark night, his teardrops turning into ice as he longs to freeze his heart and preserve the memories of his lost love. Jerskin's debut conveys the same message, the album notes say, "that if you spend too long writing a break-up album, something weird will happen." To subvert that sentence slightly, not much happens that isn't weird. Fendrix is the narrator and protagonist, flinging pathos, internal monologues and arbitrary references through each song like dirty clothes over a sofa.
A 90-second spree of hushed piano lines the entrance to this new world, sounding like an over-expressive, once-professional musician who's landed a last minute gig at the local ballet school. Desperate to impress, they progressively play the keys faster and more off-piste, expecting the dancers to stop and the audience of rich parents to look over and realise their genius. Get your phones out – this isn't a pensioner playing Bach overtures on the colourful piano at King's Cross Station.
Like everything that we've come to know about Jerskin Fendrix, as soon as Winterreise starts to sound like something, it instantly stops sounding like that thing. The aggravated romantic ballad 'Manhattan' is a seven-minute triptych, paling off into rumbling synths, as comically squeaky vocals embark on a macho manifesto, getting squeakier and squeakier the more masculine the lyrics become. 'Onigiri' lays bare a trap beat and jumps on it with heavy shoes. There are musical touchstones: a cathartic balance of UK grime and J-Pop, of frantic electronics, propulsive kick drums and arid, punchy 808 claps. The tug-of-war between PC Music and first-wave emo on 'Last Night in New York' thrusts Fendrix's heavily digitised vocal into a time warp with palpable menace.
Track-by-track, it sounds like we're inside the head of someone trying to win the girl through an outdated internet tutorial. The three-pronged attack of 'Black Hair', 'Swamp' and 'A Star Is Born' is filled with sinister brilliance, conflating ancient ghost stories about being attacked by some hair with the cast of Crazy Rich Asians. Even the sweetest moments are pinned down by an incipient violence that aligns Jerskin's vapidity with Patrick Bateman's self-awareness. He lists his flaws as if the album were a simple self-betterment programme, comical and illegal in the same breath ("I overseason my food, I text girls when I'm drinking"). He then role plays a romantic dinner date, building to crescendo ("I dreamt I cooked you dinner, and God the food was good, and you said Jerskin Fendrix, I never knew!"). Wake up and smell the Old Spice; it's romance in the age of restraining orders.
As we leave the PC-grating fire and brimstone, the ending of Winterreise actually starts to sound quite beautiful (at least, a string-soaked 'I'll Clean Your Sheets' is the first love song that doesn't sound like it was sung by a serial killer). Digitised waltzes through theatrical false starts, grandiose in-your-head characters and downbeat monologues from movie stars that should really be sitting in a dark room with a John Carpenter soundtrack turn into sedated '50s doo-wop ballads. Winterreise curtails this terribly compelling despair, like it's vacuum packed the self-destructive eroticism of Leonard Cohen's Songs of Love and Hate and is trying to play it over the scene d'amour in Hitchcock's Vertigo. All we're left with is one-way co-dependence, a razor blade, and the most weirdly moreish pop album of the new decade so far.
Please support Loud And Quiet if you can
If you're a fan of what we do, please consider subscribing to L&Q to help fund our support of new musicians and independent labels
You can make a big difference for a few pounds per month, and in return we'll send you our magazines, exclusive flexi discs, and other subscriber bonus bits and pieces
Try for a month and cancel anytime