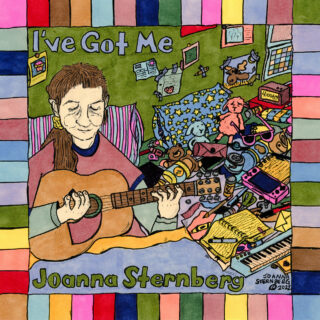 Joanna Sternberg
I've Got Me
9/10
ALBUM OF THE WEEK
Joanna Sternberg's music is raw: it projects directly from the widening and closing valves of their heart, which lies achingly fervent within their chest. And it's all led by a voice so undeniably real and endearing one can't help but feel glued to every word that bubbles up, creaks and peeks through the door that barely contains their toiling heart. 
Despite their musical subtlety, Sternberg is a poet of quaking frankness: "I'm so glad I met you; you helped me see just how very much I hate me" ('People Are Toys To You'). In fact, every one of their words reflects a battered spirit afflicted with self-hate, self-deprecation and doubt. I've Got Me, the follow-up to their 2019 debut Then I Try Some More, aims to reckon with these feelings. 
On the surface, Sternberg's diaristic folk entries can be taken as little love letters, sorrowful admissions of wrongdoing toward others (and vice versa), and frustration at their falling back into those toxic patterns and relationships. But the record strikes deeper when understood as a letter to Joanna Sternberg themself, ripe with self-examination and, at times, self-flagellation; a dichotomy that has Sternberg reminding listeners on the title track: "Between self-hatred and self-awareness / Is a very small thin line."
As this line is toed, Sternberg's balancing act is buoyed by piano and gentle guitar strums surrounding their shaky and nasally voice to allow their audience some semblance of easy listening. However, as Sternberg sings unrelentingly of mistakes made and their own flaws throughout, I've Got Me often lets its agreeable guard down with a walloping punch of candour; this is by no means a light record.
Sternberg has a way of saying things with brutal honesty, all tempered with a note of hope. They may find themself brokenhearted over and over and, at times, rotting in the mess of their bedroom ('Stockholm Syndrome'); still, they persist in seeking something better, always giving love even after constant letdowns. Sounds like a classic case of Stockholm Syndrome (as they acknowledge), but they choose to be optimistic: "Maybe someday when my pain goes away, I will get up, get out, and get free."
You can't help but feel for Joanna Sternberg; their music, and this album especially, tends to do that. But it also makes you very thankful that an artist with such emotional capacity can convey these intense thoughts with startling nuance and sincerity. It's real, and nothing beats real.
Please support Loud And Quiet if you can
If you're a fan of what we do, please consider subscribing to L&Q to help fund our support of new musicians and independent labels
You can make a big difference for a few pounds per month, and in return we'll send you our magazines, exclusive flexi discs, and other subscriber bonus bits and pieces
Try for a month and cancel anytime