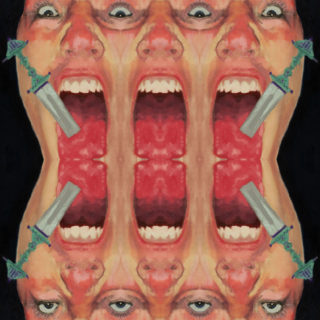 Jockstrap
Wicked City EP
(Warp)
9/10
A NOTE: LOUD AND QUIET IS IN DANGER OF CLOSING. PLEASE CONSIDER SUBSCRIBING TO OUR MAGAZINE OR MAKING A SMALL DONATION HERE. THANK YOU.
At first glance, Jockstrap's name makes them sound like the latest in indie-pop outfits (Sports Team and Soccer Mommy immediately jump to mind). Really, they're anything but. Their industrial production style melds with a pop sensibility for catchy melodies and chord progressions. They could be accused of being the British 100 gecs, but that would be a lazy comparison to draw between two electronic production duos who happen to use abrasive sounds. Jockstrap make music that's far more subtle and tightly controlled than 100 gecs' enticing maximalism.
Their debut EP Love Is The Key To The City arrived in 2018, and was an optimistic look at city life, tinged by their fragmented production style and harsh, industrial beats. Wicked City, their first release since signing to Warp Records, is the flipside to their debut, painting a hellish cityscape that's the stuff of nightmares. 
As opener 'Robert' proclaims, "I am really impressed." Wicked City shows Jockstrap reaching their feelers outwards to the boundaries of what's expected of them and simply pushing straight through. 'The City' starts off deceptively melodic before breaking down into what could be a different song entirely. It tracks the sad realisation that the possibilities offered to you by the city are a false promise. Singer Georgia Ellery's meandering lament becomes looped over a cutting atonal synth, and all illusion of softness is gone. Throughout the EP, there's something crooner-like about Jockstrap's chord progressions and intonations; the soft arpeggiated piano on 'Yellow In Green' feels like a smoky jazz bar, before the introduction of Mort Garson-esque synths renders it something else entirely. Closer 'City Hell' is a swirling, vocoded jazzy epic of a song, almost like 'Bohemian Rhapsody' in its dramatic scope. At every turn, Jockstrap seem to have something else up their sleeve that make them that bit less typical.
For a sophomore EP, Wicked City packs the oomph of a debut. It's bold and declarative, while also retaining a sense of mystery. Listening to it, you have the feeling that Jockstrap are nowhere near the bottom of their bag of tricks.
Free Protomartyr flexi disc with this month's magazine
Subscribers to Loud And Quiet now receive a limited edition flexi disc of a rare track with their copy of the magazine
This month's disc is from Detroit punk band Protomartyr