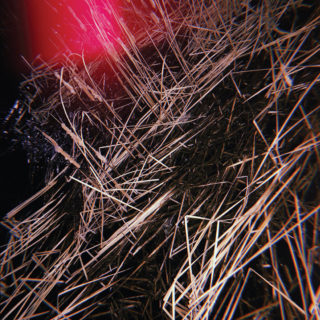 Kelly Moran & Prurient
Chain Reaction At Dusk
7/10
Since starting up Hospital Productions and first dabbling with noise and metal as a teenager in the 1990s, Dominick Fernow has been an extreme musician whom few could rival for consistent invention and transgressive practice. His work as Prurient is transcendentally nasty, his techno experiments as Vatican Shadow lean and fearless, his many other monikers and side projects a collage of challenging sonics. With this in mind, Kelly Moran, though a very accomplished artist in her own right, might seem like an odd pairing for Fernow– they're at different stages in their careers, and the aesthetics they work with contrast pretty sharply. Yet on Chain Reaction At Dusk, the split LP they began formulating during a tour together in 2018, the two lock horns in style with unsettling, beautiful results.
They take a vinyl side each, and their contributions run almost in parallel to one another, two distinct approaches to experimental sound driving towards a common goal. Neither artist deviates much from the preoccupations of their back catalogues – Moran combining her trademark prepared piano with burbling synths and monstrous drones, Fernow locating harsh vocal samples and winding arpeggiation within gratuitously creepy atmospherics – but the familiarity of the textures here allows the listener
an entry point into what might otherwise be a pretty intimidating release. The cumulative effect is stunning, and hints that if these two were to work together more directly, rather than side-by-side as they do here, they could create something truly groundbreaking.
New monthly memberships available
Here's a new thing: our membership scheme now has a pay-monthly option, plus a load of exciting new digital stuff for people who support what we do. It's actually excellent value, honest, and will help us continue to promote new independent artists and labels.
Sign up and you'll receive our physical magazines delivered to your door, our digital editions, exclusive podcasts and playlists and access to our EXTREMELY glamorous Members Lounge. You'll be the envy of all your friends.