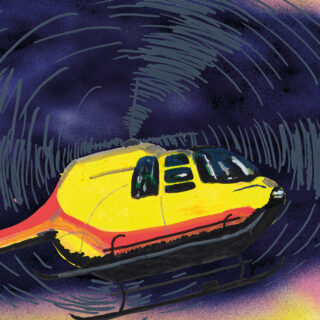 Slacker rock has a shelf life – a surprisingly short one. Plaid-flavoured riffs are all well and good at first, but before long you find yourself slouching towards the pits of nostalgia with nowhere left to turn. 
Kiwi Jr. are all too aware of this and are hellbent on doing whatever they can to avoid the unfortunate, fuzzy abyss. Chopper, their third album in as many years, sees the group resetting their posture with ten tracks of surreal summer pop. The sun-drenched synthesisers of opener 'Unspeakable Things' showcases this change perfectly. Kiwi Jr. in 2022 are all about the melodies. An overwhelming, keyboard-driven glaze engulfs the band's signature guitar hooks from the very first second, giving a refreshing, skew-wiff spin on a well-worn sound. 
This new tone drips its way down the album, allowing the group to pull away from their past without losing their edge. 'Night Vision' and 'Downtown Area Blues' rumble along like the bastard lovechild of Jonathan Richman and Julian Casablancas, while the almost sinister Game Boy-isms of 'Contract Killers' show that, despite their new tuneful nature, Kiwi Jr. can still hang with the weirdos.
Even during their more old school moments, Kiwi Jr. manage to expertly swerve the threat of retro doom. 'Clerical Sleep' combines the sound of Kiwi Jr.'s past and present without ever slipping into the generic. The track is young, dumb and fun in the best possible way. Replacements-infused aggro meshes perfectly with ice-cream-van keys, highlighting just how far the group have come in a few short years.
With Chopper, Kiwi Jr. have managed to extend their shelf life indefinitely, showing the world that they're much more than mere slacker rock pretenders.
Free Protomartyr flexi disc with this month's magazine
Subscribers to Loud And Quiet now receive a limited edition flexi disc of a rare track with their copy of the magazine
This month's disc is from Detroit punk band Protomartyr