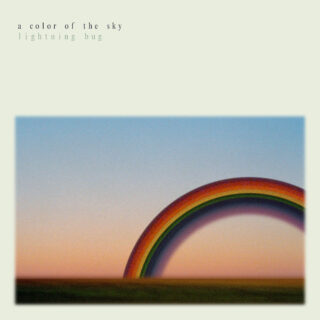 Lightning Bug
A Color of the Sky
8/10
Brooklyn band Lightning Bug have kept a relatively low profile until now. Though their first two albums, 2016's Floaters and 2019's October Song, received plenty of critical accolades, they remain largely unknown beyond a small circle of dedicated followers. Not that they mind that necessarily, with their notably languid and organic approach to making music. But with the release of this third album, their first on Fat Possum, it's hard to imagine the band will maintain their underground status. 
A Color of the Sky takes a bulk of its inspiration from a kite festival in Washington that singer Audrey Kang visited in 2019, and this has manifested in a bright and spacious piece of work which is as uplifting as it is contemplative. Having grown from three to five members, with the addition of their touring members Dane Hagen and Vincent Puleo, this album is more cohesive, and even more richly textured than the band's previous output. Recorded in the Catskills, a mountain range in upstate New York, the music seems to reflect some of that beautiful wilderness, combining shoegaze, folk and Americana delicately and expertly. Whilst their sound has grown more ambitious, Kang's vocal is hushed and introspective as ever. There are plenty of tearjerkers here, in particular 'September Song Pt II', a sequel to October Song's 'September Song' (keep up), as well as the title track, with its glimmering string-laden outro. The record is an oasis of calm – lie back and imagine kites floating overhead.
Subscribe now. Cancel anytime
Go on, give us a go
We love making Loud And Quiet – our magazines, this website, our podcasts and more – but it's become increasingly difficult for us to balance the books.
If you're a reader who'd like to help us keep the show on the road, please consider becoming a Loud And Quiet subscriber. There are options to receive our physical magazines and lots of other extras that are exclusive to our supporters.