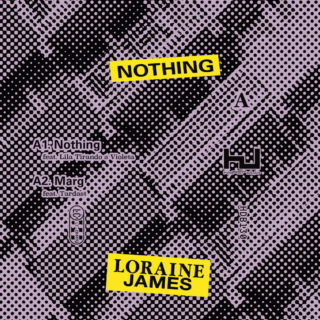 After the stunning, singular For You and I, you might expect it'd be a while before we got new material from Loraine James. Instead, we've been gifted a handful of excellent explorative EPs this year. It was already apparent how skilled James was at mixing up genres, pivoting from sound to sound with ease. That variety continued with the giddy synth focus of Hmm to the sample-heavy speaker destroyers on the self-released Bangers and Mash.
Her new collaboration-heavy Nothing EP on Hyperdub is more reflective in comparison, and it might be the best of the bunch. The caustic opener, featuring Lila Tirando a Violeta, is a poetic mood piece that earns the drama of its only lyric ("We don't feel nothing") through some immaculate sound play, and that central idea is expanded on each track.
'Marg' featuring Targ is even more acrid, bordering on horror with its menacing string sweeps and unstable drum machine burps that feel like sinking into black tar. 'Don't You See It' is a welcome burst of something approaching positivity, with its tranquil pads that give plenty of room for vocalist Jonnine's bare performance to captivate. Throughout, James's stuttering drum work compliments her vocalists rather than distracting, knowing which spaces to fill. When she's by herself on the closer, the weight and physicality of her production entrances on its own, set off with distant detuned piano chords that feel like a deep exhale. It's another solid addition to her developing discography.
New monthly memberships available
Here's a new thing: our membership scheme now has a pay-monthly option, plus a load of exciting new digital stuff for people who support what we do. It's actually excellent value, honest, and will help us continue to promote new independent artists and labels.
Sign up and you'll receive our physical magazines delivered to your door, our digital editions, exclusive podcasts and playlists and access to our EXTREMELY glamorous Members Lounge. You'll be the envy of all your friends.