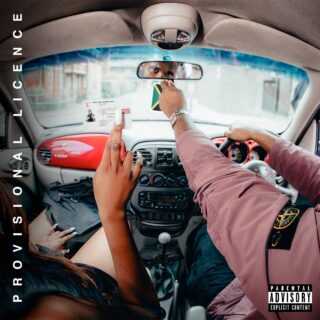 M1llionz
Provisional Licence
9/10
M1llionz is interviewed by Dominic in Issue 147 of Loud And Quiet, as part of a wider report on the UK's DIY scene post-pandemic. Pick up a copy here.
Considering it's pretty fashionable to take a swing at London, and has been for a while now, it's kind of weird that the UK rap scene has never really reflected the rest of Britain's regionalism. Brum's Devilman shot a few jibes at Skepta back at Lord of Mics back in grime's heyday, but honestly, in recent memory, that's as far as any competition went.
It's safe to say that the capital still rules the roost when it comes to UK rap. The emergence of the city's drill scene over the past few years means that most of the limelight and discussion stays within the M25, but it's a changing situation, mainly thanks to a string of stand-out bangers from Midlands artists over the past 18 months. From Coventry's Pa Salieu winning the BBC Sound of 2021 poll to Nottingham's Young T and Bugsy breaking out on TikTok to become hitmakers in their own right, it's all been happening between the Watling Road and the Fosse Way.
M1llionz, though, has kind of been the elephant in the room. The Birmingham-based rapper is one of the most exciting talents on the scene, yet his output has been pretty thin, only represented by a smattering of well-regarded non-album singles landing since he first emerged in 2019. No doubt, the pandemic has meant keeping his powder dry, but that hasn't stopped him racking up a sizable following on social media and landing a top 40 hit in the summer of 2020 with his single 'B1llionz'. 
The Provisional License mixtape is his first stab at a long-player, and, bizarrely enough, it's actually a bit of a concept album. The conceit is this: M1llionz is going on an adventure around the streets of Handsworth with his latest bae, and you're invited to ride along. Throughout the record, you get to listen in on snippets of their conversation, allowing you to follow along with a night that goes from bad to worse.
Musically speaking, it's a fascinating snapshot of an artist finding the spaces within genre lines. With production from Headie One, Ghosty, Jevon, Honeywoodsix and BKay, the sound might be rooted in the abrasive, skittish hi-hats of drill, but flexes into smoothed-out garage and classic, golden-age hip-hop with ease. Moody, almost old-school bangers like 'Pedestrian' and 'How Many Times' blend readily into proper mosh pit fodder such as 'Mobbin' and 'Badnis', but the songs work best when it's nodding at the tropes of Top 40 rap. From 'Bando Spot' riffing on 50 Cent's 'Candy Shop' to the collab with AJ Tracey for a title track built on a sample of Brandy's 'The Boy is Mine', the effect is like accidentally tuning into a golden oldies station, a genius little detail that adds to the sense of immersion.
As a piece of storytelling, Provisional License is truly impressive. A slow roll around the backstreets of Brum, it's a record that both captures the mundane and sometimes funny moments of city life and punctuates it with an undercurrent of paranoia and foreboding. Cleverly produced, drily observed and delivered with a distinctly Birmingham sense of nonchalance, it's a collection of songs to let the world know that M1llionz has entered the game.
Subscribe now. Cancel anytime
Go on, give us a go
We love making Loud And Quiet – our magazines, this website, our podcasts and more – but it's become increasingly difficult for us to balance the books.
If you're a reader who'd like to help us keep the show on the road, please consider becoming a Loud And Quiet subscriber. There are options to receive our physical magazines and lots of other extras that are exclusive to our supporters.