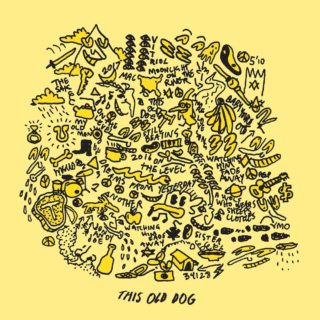 Mac Demarco
This Old Dog
7/10
The title of Mac DeMarco's last release was telling of the content within. 2015's 8-track mini album, 'Another One', felt like little more than a stopgap; something to tide over a hard touring musician sick of his set; not bad; typical; you know, 'Another One'. He just about got away with it, still running on the fumes of the ever so slightly sharpened – and brilliant – 'Salad Days', but he must have known that he'd have to switch things up for his third album, for himself and for us.
'This Old Dog' is just that – the first record not to feature a photo of Mac on its sleeve, and the first to be written since he relocated to Los Angeles. Those points are subliminal to the music at best, and more likely completely circumstantial. You could sense that DeMarco's tempered new pace was coming from the sparkling synth on 'Salad Days' slow favourite 'Chamber of Reflection'. Here, 'On The Level' and 'Baby You're Out' are close decedents – the difference is, they're also the two of the least mellow moments. For most of 'This Old Dog', Mac brings the mood all the way down to beanbag listening. It's not his unplugged album, but it's pretty close, where his pitchy electric guitar has become a warm acoustic one. On the title track he sings so slow and clear that he starts to resemble Damon Albarn. Throughout, you can hear the romance in his voice, as well as the tiredness.
It feels a touch weary by the end, but the guy had to change, and now your mum's going to like him too.
New monthly memberships available
Here's a new thing: our membership scheme now has a pay-monthly option, plus a load of exciting new digital stuff for people who support what we do. It's actually excellent value, honest, and will help us continue to promote new independent artists and labels.
Sign up and you'll receive our physical magazines delivered to your door, our digital editions, exclusive podcasts and playlists and access to our EXTREMELY glamorous Members Lounge. You'll be the envy of all your friends.