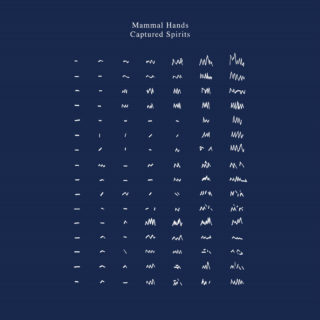 Mammal Hands
Captured Spirits
8/10
You only need to hear a snippet from literally any part of British jazz trio Mammal Hands' fourth album Captured Spirits to feel the unmistakably wistful breeze of the open sea bluster through and overwhelm you. This is music you want to be lost to. 
Eschewing a vocalist, the songs are propelled forward by the groovy collision of Nick Smart's equal parts rhythmic equal parts chaotic piano, Jordan Smart's emotive saxophone and Jesse Barrett's forever in-flux drums and percussion. 
Across eleven tracks, Mammal Hands navigate warm waves of resplendent organic cross-over jazz with a post-rock ballast – the overriding atmosphere one of wonder and possibility, serving as the perfect antidote for this tempestuous present.
The clambering piano, sultry sax and metronomic drums of album opener 'Ithaca' emote the exile's broken promise of returning home – with Smart's sax anteing to a climatic weeping of nostalgia that wavers like moonlight upon rippled water.
'Versus Shapes' beautifully imbrues the meditative, shoegaze sound with Barrett's patting of the tabla, opening up sonic pastures for the listener to wander through. The sax the winding path, the piano dotted sparsely throughout the terrain like sheep.
'Riddle' is glazed in a fantastical, albeit combustible Celtic whimsy with Smart's sax riding and breaking in waves before enveloping itself into a hypnotic whirlpool capable of charming even the fiercest sea serpent. Whether a storm of sounds or a zephyr-like reflective whisper (such as 'Floating World' and 'Shoreless'), this captivating album creates an immersive tapestry of impossible and foreign aural visions that sound like home.
Parallels will rightfully be drawn with the current crop of extraordinary jazz musicians hemorrhaging out of Britain, especially GoGo Penguin and the cosmic sax of any Shabaka Hutchings-affiliated group. However, the more mellow and less cosmic sound of Captured Spirits draw it closer to the imagined and grounded futures of Penguin Café Orchestra and early Sigur Rós than anything else.
It's a distinct sonic identity that assures they continue to carve out their own space in this bustling scene.
Free Protomartyr flexi disc with this month's magazine
Subscribers to Loud And Quiet now receive a limited edition flexi disc of a rare track with their copy of the magazine
This month's disc is from Detroit punk band Protomartyr