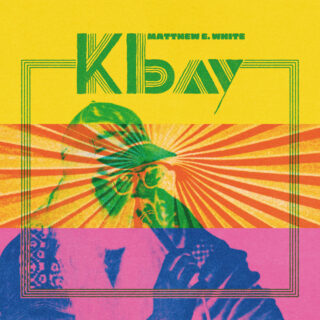 Matthew E. White
K Bay
(Domino)
7/10
"I've always had the concentration you needed to get it right," affirms Matthew E. White on the opening track of his first solo record since 2015. It may have been six years, but don't let that dampen your confidence in the Virginia-born songwriter and producer's attention span. Scarcely six months have passed since Broken Mirror: A Selfie Reflection, his brilliant collaboration with Lonnie Holley, landed. Furthermore, in that intervening period, he's been busy recording with Flo Morrissey, producing for Natalie Prass, running his Spacebomb label, and building K Bay – the home studio which lends its name to his third full-length offering. 
On K Bay, White focuses on pristine production across these 11 songs, many of which exceed five minutes in length. Throughout, the percussion is unrelenting (the sheer intensity behind every beat is enough to make you sweat), while the correlation between fat bass riffs and dexterous guitar licks on 'Nested' and 'Genuine Hesitation', in particular, are obnoxiously groovy. The sonic audacity characterising this LP works because White wholeheartedly embraces excess – in emotion as well as instrumentation. 
In creating the multifaceted arrangements, White recorded the tracks twice. Once in a conventional band set-up performing the various parts, and then again with a larger band improvising along to the first take, using the tempo as a guide. The marriage between these styles of play, more often than not, brings out the best in each other in the final piece. 'Felt Like An Ax' and the sprawling 'Only In America / When the Curtains of the Night are Peeled Back' are resplendent examples of how White stitched fabrics of varying tones and textures to make a perfectly balanced patchwork of sound. 
At the core of the record is the revival of 1970s funk that has influenced so many artists in recent years, but White doesn't rely entirely on this resurgence. There are tender moments on the Kinks-like acoustic ballad 'Shine A Light For Me', and disco hooks erupting on 'Judy'. In all, an impressive display of dynamism from Matthew E. White.
Free Protomartyr flexi disc with this month's magazine
Subscribers to Loud And Quiet now receive a limited edition flexi disc of a rare track with their copy of the magazine
This month's disc is from Detroit punk band Protomartyr