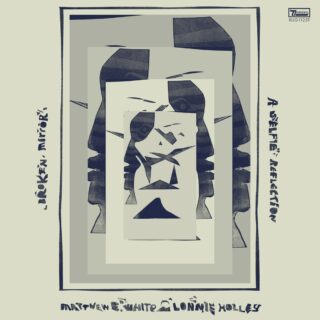 Matthew E. White & Lonnie Holley
Broken Mirror: A Selfie Reflection
9/10
When instinct and serendipity collide it's imperative to act fast. In those rare moments where something akin to magic presents itself time can feel as though it's slipping through your fingers like sand in an hourglass. When producer and musician Matthew E. White showed Lonnie Holley a series of demos he'd shelved in 2018, he quickly realised that the Alabama-born artist and performer was the missing piece he needed to transform those sonic sketches into three-dimensional compositions. As White made his way through the instrumentals, Holley searched pages of his notebook for penned thoughts. Led purely by feeling, these lyrics were seamlessly set to arrangements he'd never heard before. Four hours later, Broken Mirror: A Selfie Reflection was captured. 
The septuagenarian's ad-lib approach reflected White's attitude as he prepared to return to the studio following his 2015 LP, Fresh Blood. Wanting to switch up his songwriting style, White assembled an accomplished septet of musicians which he led in sessions of improvisational free-playing. Across Broken Mirror, White's production echoes aspects of how Danger Mouse and the late Richard Swift (who coincidentally produced Holley's 2020 release, National Freedom) drew inspiration from the psychedelic fusion of jazz and rock during the 1970s. An alluring spell of celestial keys, drawing inspiration from Miles Davis' early exploration in electric instrumentation that predated his Bitches Brew eruption, casts a brighter glow on anchoring dub beats. Furthermore, woven throughout the music are a variety of immersive motifs and influences from David Byrne's propensity for dynamic African-influenced beats on 'I'm Not Tripping / Composition 8', which precedes the glorious cascading glockenspiel notes that twinkle amidst the rumbling thunder of 'Get Up! Walk With Me / Composition 7'. It's difficult to isolate one particular stand-out movement or song from the record. Everything here is a triumph. 
The immediacy of Broken Mirror's compositions culminates in a timeless and timely record, and the collaborative partnership between Matthew E. White and Lonnie Holley is a natural one – a case of the right place at the right time leading to the creation of the right songs for this moment.
Free Protomartyr flexi disc with this month's magazine
Subscribers to Loud And Quiet now receive a limited edition flexi disc of a rare track with their copy of the magazine
This month's disc is from Detroit punk band Protomartyr