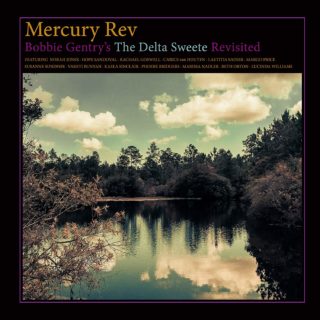 Mercury Rev
Bobbie Gentry's The Delta Sweete Revisited
8/10
In 1967, at the height of the Summer of Love, Bobbie Gentry topped the American charts with her debut single, the notably un-psychedelic 'Ode To Billie Joe', which briefly transported pop fans from Pepperland or Brian Wilson's sandpit to rural Mississippi and a dinner-table psychodrama. Six months later, Gentry returned with her second album, 'The Delta Sweete', picking up where her quietly revolutionary hit single left off, weaving a Southern Gothic tapestry of church pews, dustbowl mysteries and cotton fields with just her dreamy, bashful vocals, acoustic guitar, and smatterings of Nashville strings. The album, brooding and sweltering, was entirely ignored; as if in desperation, Gentry's next long-player featured three Beatles covers.
It's tantalising, then, to wonder if 'The Delta Sweete' may have fared differently were it rendered as psychedelic rock, which makes Mercury Rev's "revisiting" quite the science experiment, an answer to a half-century-old musical "what if". In reality, however, the present album is less a revisitation, more a wholesale reshaping: the jaunty guitar and homespun Southern charm of the original are out, replaced by ominous drones and fluttering woodwind, cavernous martial drums and an impressively international parade of guest voices.
On the album's darker songs, this new sonic backdrop seems inspired: the crepuscular guitars and ominous still on murderballad 'Parchman Farm' augment the existing ghoulishness, while 'Sermon' accrues considerable menace with Margo Price's snarl and its quietly shrieking strings. Elsewhere, Mercury Rev's predilection for rather baroque prettiness is surprisingly welcome, here co-opted with charm to spare by the Francophone croon of Stereolab's Laetitia Sadier, who moulds 'Morning Glory' into a stylish chanson.
Missteps appear, however, on the songs that demand intimacy: album closer 'Courtyard' is a gorgeous lullaby in Gentry's hands, but the combined bombast of Mercury Rev and the honk of Beth Orton bludgeon the song's subtleties. Equally, Lucinda Williams' 'Ode To Billie Joe' (not on the original 'Delta Sweete' but tacked on here nonetheless) is all attention-seeking melisma and vibrato, oozing with the overly florid arrangement to demolish the quiet ambiguity of the original.
Thankfully, though, these miscues are few, and at its best, Mercury Rev's 'Delta Sweete' manages to breathe new life into Gentry's album while also producing material as good as anything the band have done this century. That said, there remains something rather ghostly to exhuming a long-forgotten album and decorating its simple corpse so flamboyantly; that the eerieness rather suits the album, however, is testament to Mercury Rev's curatorial skill.
Please support Loud And Quiet if you can
If you're a fan of what we do, please consider subscribing to L&Q to help fund our support of new musicians and independent labels
You can make a big difference for a few pounds per month, and in return we'll send you our magazines, exclusive flexi discs, and other subscriber bonus bits and pieces
Try for a month and cancel anytime