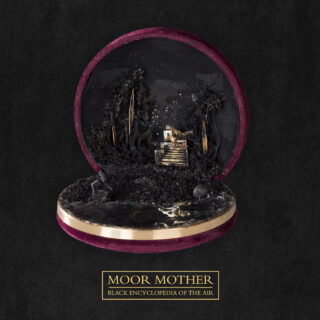 Moor Mother
Black Encyclopedia of Air
(Anti)
8/10
"If you knew how many times it took me to get here / To this place, right in front of you," says a voice, mouthing each syllable and feeling the shape of every letter as it leaves its tongue only to be echoed back, fortified but distorted and robotic, "after all this madness." The opening chapter of Philadelphia poet, visual artist and touring musician Camae Ayewa's seventh studio album as Moor Mother hits with sobriety, its mangled and hissing future theory joining struggle and servitude as if they were two dots on a drawn constellation. It's Black trauma and political cronyism played through partisan beat-making in Moor Mother's ambient hyper-space. The introduction to Black Encyclopedia of the Air is the most sinister she's ever sounded; it's no longer forward-facing activism, but a transmission and a warning – as she describes it, "a post-everything, 12:01 on the doomsday clock." 
The switch from 'Temporal Control of Light Echoes' to 'Mangrove' is abrupt, from foggy beats and temporal spoken word that reverberates like the flicker of a snake's tongue searching for higher truths to grounded and jazz-tinged analogue rap. Elucid and Antionia Gabriela's feature most neatly recalls Moor Mother's work with Armand Hammer and Earl Sweatshirt on 'Ramesses II' – on which Elucid also features – adding to Ayewa's catalogue of music history gut-punches from Al Green to Mahalia, now with "Ain't no mountain high enough to escape this confederate landscape." 
The features from Pink Siifu, Lojii and Bfly pull Moor Mother's narrative away from the hyper-real, much as she dances on the edge of their words, maniacally clawing it back. London MC Brother May covers Iraq, coronavirus conspiracy theories, and austerity hits: "We don't receive no counselling but pay council tax / no refurbishments in our council flats". It's a strange digression in a record that elsewhere lives to its billing of being a time traveller's guide to the modern world, less scattered than her brilliant collaborative album BRASS with Billy Woods, indebted to rap's rhythmic structure.  
When the planets orbiting Black Encyclopedia collide, and modern-day corruption is extrapolated into Moor Mother's spaciousness, the record sounds like a new type of haunting protest music. 'Tarot' finds the spiritual jazz of Alice Coltrane being stripped for parts by a mechanic, as a shipping forecast radio switches its list to "Blackface democracy / Slave house Senate / Outhouse Prime Minister". It's factual and unphased – one more tenet to Aweya's Sun Ra-like vision of uniting the revolution in jazz, poetry, politics and space travel.
Try free for 30 days
For a limited time you can try out our memberships for free.
Sign up to receive our current magazine, playlists, podcasts, full site access, record discounts and more for absolutely nothing.