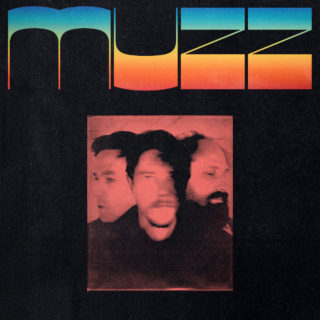 A NOTE: LOUD AND QUIET IS IN DANGER OF CLOSING. PLEASE CONSIDER SUBSCRIBING TO OUR MAGAZINE OR MAKING A SMALL DONATION HERE. THANK YOU.
On the one hand, Muzz is a supergroup, in that it comprises musicians already famous for other bands (Paul Banks from Interpol, Walkmen/Jonathan Fire*Eater drummer Matt Barrick, and Josh Kaufman from Justin Vernon-approved folk revivalists Bonny Light Horseman); on the other, however, "super" might be over-egging it, given that a line-up this glamour-free is hardly troubling, say, the Travelling Wilburys or Them Crooked Vultures in the pantheon of supergroups for intrigue and cross-pollination possibilities.
And if the personnel announcement feels somewhat low-octane, wait until you hear the album. It's not that Muzz is a bad record, per se — indeed, many well-respected bands have built entire careers out of slabs of sleepy, weary, yearning melancholia centred on a gravelly baritone similar to this — but it's just, for the most part, that it's lethargic to the point of atrophy. Little explosions of clustered saxophones on 'Bad Feeling' quicken the pulse briefly, and the playful motorik electronics on 'Evergreen' and 30-second fuzz guitar solo midway through 'How Many Days' lighten the mood momentarily, but otherwise, much of Muzz is drab: a definite aesthetic is both sought and adhered to, but that blueprint is  so strong that every song seems to replace rather than complement the last. 
There are moments that break free from the dreariness — 'Everything Like It Used To Be' is the sort of sweet Byrdsian song you long to encounter drifting over a festival site (remember them?) at sundown, and there's a beautiful sense of longing to 'All Is Dead To Me' sewn into its melody and arrangement of 6/8 lilt with muted horns — but unfortunately counterbalancing that are flailing passages of barely developed flab ('Summer Love') and finger-picking exercises desperately seeking a purpose ('Patchouli') that are not so much forgettable as actively suffocating.
Ultimately, though, what hamstrings Muzz most is Banks' tendency to restrict all his melodies to only a handful of the same neighbouring notes, combined with the majority of the songs being of the same plodding tempo, a pincer movement of banality that leaves very little to surprise or confound. A record like Muzz, with only sporadic flickers of interest in an otherwise downbeat, repetitive landscape, may feel eerily evocative of recent months; in much the same way, it's not an experience that many may be eager to repeat.
Please support Loud And Quiet if you can
If you're a fan of what we do, please consider subscribing to L&Q to help fund our support of new musicians and independent labels
You can make a big difference for a few pounds per month, and in return we'll send you our magazines, exclusive flexi discs, and other subscriber bonus bits and pieces
Try for a month and cancel anytime