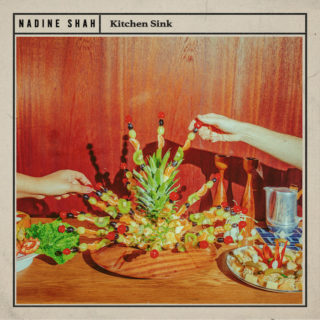 Nadine Shah
Kitchen Sink
7/10
When Tyneside songwriter Nadine Shah turned 34, the background hum of friends coupling off, getting married and having babies began to amplify to an un-ignorable volume. Not sure quite how to compare her own life to the expectations of society around her, Shah began having conversations that would serve as catalysts for her fourth record, Kitchen Sink.
"I ended up with a collection of stories" explained Shah, "Women who have had children, women who want to have children and can't physically, women who can physically but choose not to… all different scenarios." What happens if you have children – and what happens if you don't have children – stalks the record. "I am aware of the passing of time" Shah incants slowly and repeatedly on the excellent 'Dillydally'. Where the album's predecessor Holiday Destination was a record of urgent, elegant post-punk, Kitchen Sink is spacious – allowing Shah room to get inside topics like catcalling, on the warm and infectious 'Club Cougar', or male expectations of women and childbearing on single 'Ladies for Babies (Goats for Love)'.
In interviews, Shah has spoken regularly of her love for Talking Heads' often overlooked 1988 record Naked – much of that album's buoyant, nervy global-groove aesthetic permeates Kitchen Sink. Tracks are built on looping polyrhythms, aided by Shah's producer and long-term musical collaborator Ben Hillier. The effect is often brilliant; on the brooding 'Kite', the rhythms are hypnotic, the sound of late night thoughts circling and repeating, circling and repeating – underlined by ominous backing vocal drones and interrupted by staccato piano jabs. Shah's plum-rich vocal is more ambiguous – even arch – on this record, as if stepping aside to allow multiple interpretations to elbow past. A precise record, its only misstep is the spirited but sub-par 'Buckfast', its themes of alcohol and obliteration delivered much more effectively on the motorik 'Ukranian Wine'. Indeed, at points the album can suffer for its fidelity to a sonic template, a lack of diversity that clips the record's wings rather than affording it cohesion. No matter, however, this is an assured, thoughtful and subtly inventive record. Like a Mike Leigh film, it gives the illusion of being a kitchen sink drama, whilst in reality Nadine Shah is addressing the foremost fundamental anxieties of being alive: "Shave my legs / Freeze my eggs / Will you want me when I'm old?"
Loud And Quiet could do with your help
We love making Loud And Quiet – our magazines, this website, our podcasts and more – but it's become increasingly difficult for us to balance the books.
If you're a reader who'd like to help us keep the show on the road, please consider becoming a Loud And Quiet member. There are options to receive our physical magazines and lots of other extras that are exclusive to our supporters.