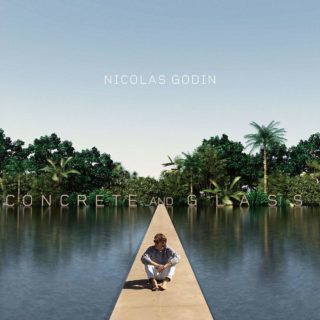 Nicolas Godin
Concrete And Glass
(Because)
6/10
Nicolas Godin needs little in the way of introduction. As one half of seminal electronic duo Air, he has spent most of the last two decades as a dreamy, downtempo reference. In 2015 Godin made his solo debut with the Bach-inspired Contrepoint, throwing himself into a technical challenge to reimagine the work of the classical composer in a contemporary way. If that project was a stylistically bold departure from what we've come to expect, he returns to type here on Concrete and Glass.
Taking inspiration from architectural reference points, it's a concept that feels highbrow enough to reflect Godin's own exacting style. A minimalist and a perfectionist, it's not too much of a leap to parallel the similarities between the literal architecture he's referencing musically and the craft and structure of his own music.
The record's title-track is an elegant glimpse into the future, the vocoded vocals adding a space age quality that feels like an architect's take on life on Mars, and 'The Border' feels equally timeless with its floating synths and ambient melodies as Godin's vocals harking back to Air's Moon Safari golden age. But that sense of clarity feels clouded on the album's guest collaborations with the vocals often unbalancing the crisp definition Godin seems so inspired to create. Even when it works, as it does on 'Catch Yourself' featuring Hot Chip's Alexis Taylor, it still doesn't move with the weightless finesse of the tracks with a lighter vocal touch.
Still an effortlessly stylish listen, Concrete and Glass might be all black-rimmed spectacles and immaculate blueprints, but, amongst its clean lines and crisp arrangements, it just about retains enough of slow-burning warmth to be as instantly recognisable as Godin, even if it isn't his grandest design.