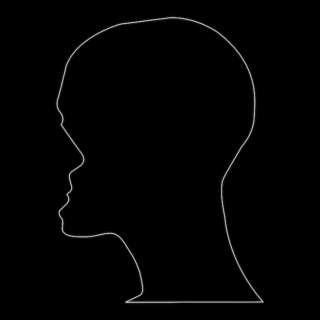 For the first time in four years, we have a proper Nicolas Jaar album: Cenizas. The latest entry from the Chilean-American composer neé DJ is both the end of a drought and the capstone on an incredible run. While his last "official" project, the politically-oriented Sirens, came out in 2016, Jaar has released two dance compilations under the alias Against All Logic and produced FKA Twigs's exquisite Magdalene in the intervening years. So where does all that — two hours of original club-ready beats and a bona fide pop music Event — leave Jaar?
As an album, Cenizas wanders, floats, drifts. Jaar's work has always been experimental, but this record is without a doubt his most "challenging," rife with exercises in drone, ambient, and noise, often at the same time. In many cases the only punctuation in these songs is the smooth arrival of Jaar's lilting baritone, a soothing voice hovering in the abyss. Historically, Jaar's most exciting songs have often featured some moment of lift-off, where an unexpected instrument arrives, the drum kicks in, or a beat picks up. Not so here. One song is titled "Gocce," Italian for "drops." Jaar is either having some impish fun with expectations or investigating the outer limits of what a "drop" means in music. Or, more likely, both. The notable exception to this vibe is the album's focal point and standout track, the seven-minute "Mud." A drum-led, drone-heavy meditation, "Mud" is the centre of gravity of Cenizas. It easily sits with the best of Jaar's work.
Cenizas invites a perilously simple narrative for where Nicolas Jaar has arrived in 2020. With a home for his dance music under A.A.L. and big league producing opportunities, he can now indulge his more avant-garde impulses under his own name. But this record is also consistent with the themes and objectives that have pervaded the artist's work to date. Jaar's music has always been deeply preoccupied with atmosphere, and Cenizas is a deeply atmospheric album. It sounds like a void. As you listen, you feel like you could fall into it and never find your way out. In that way, these 54 minutes feel like a sequel to Jaar's first hit, Space is Only Noise, set 5,000 years in the future. He told us then. He's showing us now.
New monthly memberships available
Here's a new thing: our membership scheme now has a pay-monthly option, plus a load of exciting new digital stuff for people who support what we do. It's actually excellent value, honest, and will help us continue to promote new independent artists and labels.
Sign up and you'll receive our physical magazines delivered to your door, our digital editions, exclusive podcasts and playlists and access to our EXTREMELY glamorous Members Lounge. You'll be the envy of all your friends.