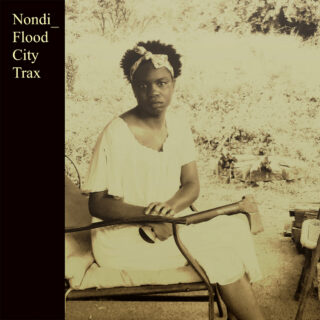 Nondi_
Flood City Trax
8/10
ALBUM OF THE WEEK
When you're trying to create musical work influenced by real events it can be difficult to capture the atmosphere of specific moments in the sound itself. Yet that's what Pennsylvania-based experimental producer Nondi_ (aka Tatiana Triplin) has managed to do on new album Flood City Trax.
On previous records like Loners Attitude and Rural Ghetto, Nondi_ and her collaborators on releases via her label HRR have treated us to intricate sounds that build on the emotional and industrial textures of hard juke, footwork and experimental club music. An eloquent experimental album explicitly influenced by Triplin's upbringing, Flood City Trax continues and expands upon that trend. 
This is a moving body of work that expresses the dark history of her hometown (Johnstown, PA) with the use of rusty tones blended with light keys, repetitive chopped-up vocals and melodies to express the light and shade, leaving you feeling like you're in a Nondi_-themed video game. With futuristic juke and footwork rhythms making regular appearances, each track here allows the listener's imagination to discern its true meaning. I guess that ambiguity is Nondi_'s intention. 
Opener 'Floaty Cloud Dream' starts us off with an illumination of euphoric, deteriorated bells and filtered-out, liquefying effects that slowly build into a pulsating rhythm. These textures and sounds continue throughout the album, keeping it situated within a dynamic, liquefying environment that serves as a reference to the deadly floods Johnstown experienced in 1889 and 1977.
The album takes a contrasting route, operating in a range of moods generated by repetitive noises, textured frequencies and abnormal tempos, tied together by a consistently soft, childlike affect that appears and reappears along the way. It sort of shouldn't work, yet Nondi_ is able to maintain a balance of charm and mystery, leaving us with a vision of her hometown's past which lives on through the flow of this articulately abstract and sentimental album.
Free Protomartyr flexi disc with this month's magazine
Subscribers to Loud And Quiet now receive a limited edition flexi disc of a rare track with their copy of the magazine
This month's disc is from Detroit punk band Protomartyr