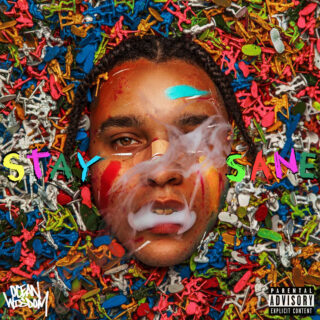 Ocean Wisdom
Stay Sane
7/10
So much of the talk about Camden rapper Ocean Wisdom the past five years has been about the rapidity of his flow. And it's true: he's got lungs like a whale and officially spits words quicker than Eminem, according to Guinness World Records. That skillset saw him attract collaborators as esteemed as Method Man and Dizzee Rascal, and comparisons to speed-merchants like Busta Rhymes. While there are some impressive sprints on his fourth album, it's not simply an exercise in flashy velocity. In fact, it's when Stay Sane is cruising that it's most compelling – think Childish Gambino rather than, say, Twista. 
Single 'Drilly Rucksack' is a case in point – the fictional tale of a magical rucksack that shields its owner from the evil of Tories, albeit in a violent way – where Wisdom artfully glides between gears and modes. Opener 'Gruesome Crimes' is similarly ear-catching, marrying goofy U.S. college rap musicality with a British sense of humour. Maverick Sabre adds a soulful flourish to 'Uneven Lives', an ode to the healing qualities of time off and time away.  
It's 'Racists' though, featuring the recognisable Novelist, that's perhaps the most arresting moment; an honest, depressing and lasting reflection on British bigotry: "Racists they come and won't go… I hope you drop down dead while you're shoveling cocaine up in your nose," he rasps. For one so quick with his delivery, it's now that Ocean Wisdom's steadied the pace that his output grows in power.
New monthly memberships available
Here's a new thing: our membership scheme now has a pay-monthly option, plus a load of exciting new digital stuff for people who support what we do. It's actually excellent value, honest, and will help us continue to promote new independent artists and labels.
Sign up and you'll receive our physical magazines delivered to your door, our digital editions, exclusive podcasts and playlists and access to our EXTREMELY glamorous Members Lounge. You'll be the envy of all your friends.