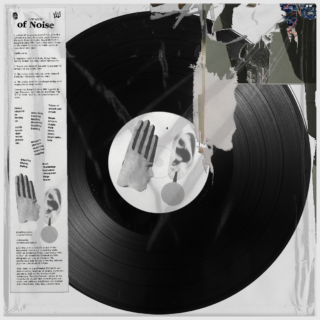 Various Artists
Late Works: Of Noise
7/10
For most of us norms, unlocking creativity can be difficult at the best of times. This rule does not apply to the musicians featured on Of Noise – a new, Futurist-inspired collaborative project from Slow Dance Records. 
Plucking members from Black Midi, 404 Guild, Goat Girl, Sorry, Powerplant and Curl Recordings, perhaps it's no surprise. Split up across six tracks, it's a stupidly talented pool to work from, each artist carefully selected for their diverse range and impulse to push to boundaries. Largely inspired by Luigi Russolo's declaration to reinvent the way in which we hear music, his 1913 manifesto 'The Art of Noises' lays out the album's conceptual backdrop; to create something innately alien and unrecognisable to human ears. 
The rules were simple. Each group had just six hours to record their respective track with everything, including lyrics, to be written inside the allotted studio time. Seems easy enough doesn't it? Apart from all instruments are forbidden. If you're scratching your head at this last one, the musicians were instead provided with other means of noisemaking in form of hand-made sculptures. Designed for purpose, these makeshift bone-like appliances sort of resemble conventional instruments, albeit striped back to their primitive forms.
It's an ambitious experiment from Slow Dance, and one that pushes even the most resourceful thinkers to their limit. That said, the participants seem more than up to the challenge. Keeping true to the basic principles of Russolo's Futurist orchestra, the different groups manage to inflict their own musical personalities onto the cacophony of roars, mummers, hissings and so on. Whether it's 404 Guild's sprawling verses, GG Skips' experimental electronic mumblings, Goat Girl's textured ritualistic chants or Martha Skye Murphy and Kiran Leonard's layered multilingual prose, each artist leaves their mark, with the album spanning multiple genres but ultimately accumulating in a cohesive, profoundly distinctive sound.
Free Protomartyr flexi disc with this month's magazine
Subscribers to Loud And Quiet now receive a limited edition flexi disc of a rare track with their copy of the magazine
This month's disc is from Detroit punk band Protomartyr