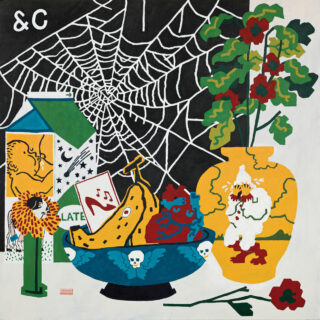 Parquet Courts
Sympathy For Life
6/10
Historically, musicians have been known to sympathise with satanic entities, punk quartet Parquet Courts, however, have, as their seventh album suggests, a Sympathy For Life. Andrew Savage and his bandmates remind us that a lot has changed in the world since we heard from them on 2018's Wide Awake!. One such shift is the band's sound.
In the lead up to the recording sessions, produced by John Parish and Rodaidh McDonald, co-vocalist Austin Brown revealed that the group were enjoying letting loose at dance parties pre-pandemic. That sense of revelry is encapsulated on this record through electronically focused arrangements, new terrain for the band who have always tried to sound like a CBGB act. Aptly, then, Remain In Light-era Talking Heads appear to have been an integral source of inspiration as Parquet Courts found their feet in this new groovier direction. Their masquerading as David Byrne is proudly worn on 'Plant Life', which hears an infectious coupling of afrobeat percussion and groove-heavy bass riffs as a backdrop for near inherent incantations. Similarly, 'Marathon of Anger' bears a striking resemblance to Byrne's vocal style.
In the midst of dancier instrumentation and krautrock-tinged tracks ('Application Apparatus'), Parquet Courts proffer their old reliable scuzzy guitar tones ('Homo Sapien') and instantly recognisable melodies on 'Just Shadows'. Sympathy For Life is bookended with the record's standout moments, ones that deftly denote maturation in their familiar style.
Subscribe now. Cancel anytime
Go on, give us a go
We love making Loud And Quiet – our magazines, this website, our podcasts and more – but it's become increasingly difficult for us to balance the books.
If you're a reader who'd like to help us keep the show on the road, please consider becoming a Loud And Quiet subscriber. There are options to receive our physical magazines and lots of other extras that are exclusive to our supporters.