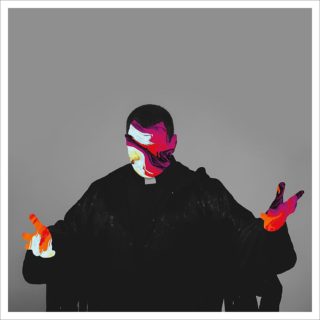 Pigs Pigs Pigs Pigs Pigs Pigs Pigs
Feed The Rats
(Rocket)
7/10
If you name your band Pigs Pigs Pigs Pigs Pigs Pigs Pigs (hereby referred to as Pigs x7), you're immediately opening yourself up for a certain amount of mockery. The Newcastle five piece are all too aware of that, and their blistering three-song debut album 'Feed the Rats' revels in its ridiculousness. I mean, surely no one can scream "I AM THE DEMON! I AM THE NIGHT! I AM ADONIS!" and mean it, let alone on a song called 'Psychopomp', right? Bookended by two tracks which brazenly pass the fifteen minute mark, it's an LP marked by Matt Baty's primordial invocations, which sound like they were recorded from the top of a mountain, and bludgeoning detuned guitars, designed to blow your speakers.
There are shades of Sabbath and Sleep, while Baty's vocal on 'Sweet Relief' echoes Lemmy's sorely-missed emphysemic rasp. The slow burns, bone-on-cave-wall drums and sludgy riffs aren't going to be everyone's cup of blood, but as howls into the void go, the Pigs are alright.
New monthly memberships available
Here's a new thing: our membership scheme now has a pay-monthly option, plus a load of exciting new digital stuff for people who support what we do. It's actually excellent value, honest, and will help us continue to promote new independent artists and labels.
Sign up and you'll receive our physical magazines delivered to your door, our digital editions, exclusive podcasts and playlists and access to our EXTREMELY glamorous Members Lounge. You'll be the envy of all your friends.