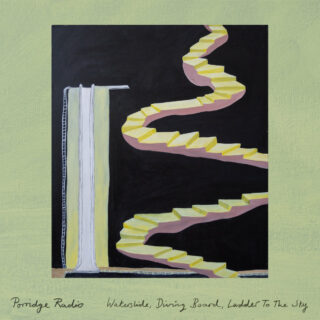 Porridge Radio
Waterslide, Diving Board, Ladder to the Sky
8/10
If Porridge Radio and Dana Margolin have taught us anything over three albums, it's that self-doubt can sound as invigorating as it is exhausting. Here, Margolin is as forceful and fervent as ever, questioning and probing with the depth and dynamism that made 2020's Every Bad such an excavating listen. But this is also the sound of a band that's scaled up a long way from the DIY, shed-recorded confines of their 2016 debut Rice, Pasta and Other Fillers – as well as the polished ambition of the aforementioned follow-up – to arrive at the big ambition of Waterslide, Diving Board, Ladder to the Sky.
"I kept saying that I wanted everything to be 'stadium-epic'," Margolin says in the press notes, and you hear that intent straight away in the rousing power of opener 'Back to the Radio' but also in a few different, equally bombastic ways throughout the album. A lot of it is owed to Margolin's presence as the band's emotional heartbeat, as she searches, beseeches, endlessly pulls on the threads of disappointment, life and existence in an endearing kind of torment.
And when those moments hit, they hit with feeling. 'Jealousy' is a wide, sad, sweeping anthem that has Margolin hitting the same kind of open-hearted vulnerability that made Hana Vu's debut last year such a bittersweet highlight. "And jealousy makes me bad / But nothing makes me quite as sad as you," she sings as crunching guitar and hammered piano crash around her – one of many biting lines that cut effortlessly deep. On 'The Rip', she's defiant, her voice rasping as she repeatedly shouts "And now my heart aches" over dense, power-pop swathes of tumbling keys and reverb-heavy guitar in throaty, cathartic release.
British indie has always had that kind of maudlin magnetism, a sadness that knows where to draw the line before feeling too sorry for itself, and it's a quality that Porridge Radio have nailed. At the sharper end, 'Birthday Party' could easily have been Nosferatu D2, but where their scything misery brilliantly hit with the hopelessness of Peep Show without the humour, Porridge Radio create a scene of almost child-like rejection of affection as Margolin slides deeper into a void, yelling "I don't want to be loved" to a point of hoarse, tantrum-like exhaustion. Existentialism is hard, but the search is worth it when it sounds as good as this.
Free Protomartyr flexi disc with this month's magazine
Subscribers to Loud And Quiet now receive a limited edition flexi disc of a rare track with their copy of the magazine
This month's disc is from Detroit punk band Protomartyr