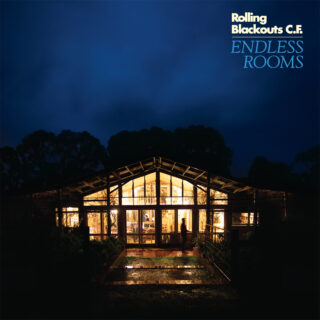 Rolling Blackouts Coastal Fever
Endless Rooms
(Sub Pop)
6/10
There is a specificity when it comes to Australian indie rock: a signature sound, a particular mix of dry sarcasm and jangling guitars present in everything from the Go-Betweens onwards. The so-called dolewave scene of contemporary Melbourne is this lineage's latest incarnation, with songwriting royalty like Courtney Barnett and Rolling Blackouts Coastal Fever counted among its alumni.
With their characteristic love for the mundane, everyday lad life, RBCF are now onto their third LP, Endless Rooms, an 'anti-concept' album written and recorded with the band gathered in a secluded, lakeside family home, leaving all background noises and field recordings in the final cut. The band's usual slack is here, more relaxed than ever, with their previously Dylan-esque delivery dropped in favour of more melodic vocals, the tension released (except on the notable 'Saw You At The Eastern Beach', which links back to the band's previous beating rhythms and alienated lyrics). Endless Rooms is the portrait of a band eager to be a band again after the long pandemic period: that's something Rolling Blackouts Coastal Fever are rather good at, but it sometimes isn't enough to truly have an impact.
Loud And Quiet could do with your help
We love making Loud And Quiet – our magazines, this website, our podcasts and more – but it's become increasingly difficult for us to balance the books.
If you're a reader who'd like to help us keep the show on the road, please consider becoming a Loud And Quiet member. There are options to receive our physical magazines and lots of other extras that are exclusive to our supporters.