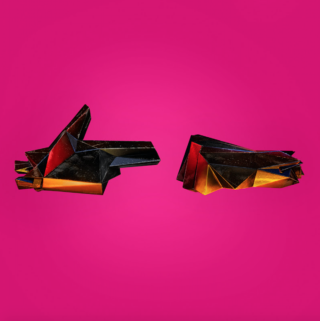 Run The Jewels have forged a path as purveyors of brash yet heavily politicised rap music, wherein knowingly overblown braggadocio stands inches apart from razor-sharp social commentary. This combination of the personal and the political has been a longstanding duality in hip-hop lyricism, a visceral contrast that is perhaps unrivalled in its in its gut-punch effectiveness. Run The Jewels have constructed an incredibly smart, effective vehicle for this duality that continues to offer surprises four projects in.
The fact that Run The Jewels seemingly landed in 2013 as a fully-formed organism owes much to the fact that both El-P and Killer Mike had already led acclaimed, if parallel, careers.
El-P is the East Coast kingpin of underground hip-hop, having spent years mining New York for its finest dystopian boom-bap and firing it out into the atmosphere via his label Definitive Jux. As well as consistently releasing his own music since the '90s, his production has graced some of the finest hip-hop albums to ever see the light of day.
Killer Mike first appeared as a peripheral associate of Atlanta's Dungeon Family, appearing on tracks by OutKast, amongst others. He later asserted himself with the Pledge series of releases before someone made the unexpected suggestion of pairing up with El-P.
Though initially an odd pairing, what started as a studio experiment spawned a full El-P-produced Killer Mike album, R.A.P. Music. The foundations for Run The Jewels were set, and what at first seemed a side-project rapidly became a career-defining duo.
RTJ4 is released into a world in a state of flux, with the brutal murder of George Floyd at the hands of a police officer sparking worldwide protest and renewed acknowledgement of the need for change. The omnipresence of police brutality within Run The Jewels' music is a harrowing reflection of a society that consistently ignores daily realities.
The contrast between Mike's frantic fury on opening track 'yankee and the brave (ep. 4)' – "I can't let the pigs kill me, I got too much pride" – and his visible despair as he addressed Atlanta following the murder of Floyd is a potent symbol of both the emotional and physical warfare afflicted on these communities.
The album's delivery oozes defiance, its widescreen beats knocking you for six while letting you know exactly how it is. Production standouts include the woozy piano of 'ooh la la' and the hacked-up vocal stabs of 'out of sight', traditional hip-hop tropes maxed out for a contemporary ear.
Closing track 'a few words for the firing squad (radiation)' sees the pair musing on where they find themselves and how they arrived there, projecting a fatigued yet undimmed resistance to a broken world. The instrumental rises continuously, an exhausting uphill loop eventually crescendoing with a blazing saxophone solo, an end both exhaustibly triumphant and pointedly unresolved.
There's a dichotomy at the heart of records like this. RTJ4 is a stark reminder that the consumption of art as either entertainment or cultural document are two inseparable actions. To truly understand what we are experiencing, it's vital to understand who made the art we are consuming, how it relates to the world we live in, and how passivity only helps maintain the perpetual cycle of suffering that informs such work. The line "You so numb, you watch the cops choke out a man like me" on 'walking in the snow' is a powerful statement that shouldn't need to be made.
Free Protomartyr flexi disc with this month's magazine
Subscribers to Loud And Quiet now receive a limited edition flexi disc of a rare track with their copy of the magazine
This month's disc is from Detroit punk band Protomartyr