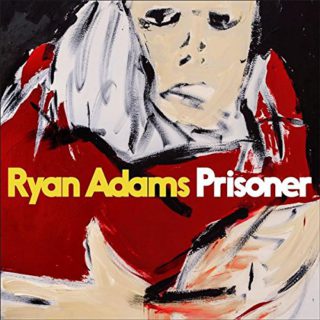 The opening 'Do You Still Love Me?' sets the tone for Ryan Adams' sixteenth album, a record burrowed deep into the questioning, agonising and confusing turmoil hole that is a relationship breakdown – in this case Adams' marriage to actor Mandy Moore.
It's underpinned by the gentle whir of a Hammond organ and stabs of electric guitar that recall the infectiously melodic AOR rock of '70s AM radio, a role that Adams seems to have slid into with increasing comfort in recent years with the more unpredictable and stylistically varied records that filled up his '95-'05 period a bit of a distant memory (with the exception of 2014's brilliant EP '1984' – a firecracker of two-minute tracks recalling early Lemonheads and Husker Du). 
There's always been a slightly emo side to Adams' work that has escaped such labels through his association with country music and its down and out, heartbroken, troubadour acceptance, but Adams' lyrics are often filled with self-pity as often as they are an apposite exploration of transient love and loss. The exceptions to the rule are often Adam's greatest accomplishments, such as the more experimental 'Love is Hell'. 
On 'Prisoner' however the words are plain, open, and almost teenage in their outpouring. Perhaps all Adams has left is honesty and at times it feels like an uncomfortable read through his unedited diary. Yet on album highlight 'Shiver and Shake' the lyrical simplicity and brute honesty creates a tangible sense of devastation as it portrays the crippling physical and emotional impact of a break-up, as well as all the irrational and tortuous things that spark through your head like an unwelcome presence you just can't will away. Its gentle pace and atmospheric drones recall 'I'm on Fire'-mode Springsteen. In fact, Adams slots into Springsteen mode easily and effectively often, most notably on 'Outbound Train' (also see the sax outro of 'Tightrope') which chugs along with an easy groove and shimmering guitar lines that sparkle and reverberate as the influence of The Smiths remains ever-present in Adams' work and playing.
It's these textures that give the album a sense of depth and space from the lyrical frankness and singer-songwriter formula; the echo-laden guitars that ripple and linger place Adams closer to the Kurt Vile/War on Drugs end of the spectrum, avoiding steering into the overly earnest songwriter approach (too much).
Adams' voice is still the central vacuum to his records and he still has an infectious pull with melodies (both vocal and guitar) that ooze out of him like a bleeding heart here. It makes 'Prisoner' his finest standard release since 2005's '29'.
Free Protomartyr flexi disc with this month's magazine
Subscribers to Loud And Quiet now receive a limited edition flexi disc of a rare track with their copy of the magazine
This month's disc is from Detroit punk band Protomartyr