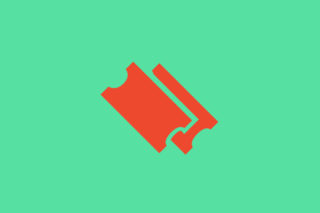 Please look at my gig ticket collection, so I know it was worth keeping them all this time
A self-indulgent look back at the gigs of my life
Since I started Loud And Quiet in 2005 I've been in a very fortunate position, where I get to go to a majority of the shows I like for free. I'm not saying I can get into Madonna's secret show at MOTH Club, but if I fancy Teleman at The Lexington, I can put in that call and, 8 times out of 10, I'm in. I consider it a privilege, but for me there has always been a small downside to having your name crossed off a list by the door – you don't get an physical ticket. I know, 'boo-hoo', right? But I enjoyed collecting them, and recently found my folder (it's a photo album, actually, fellow hoarders), of most of the shows I saved tickets from. Here are a select few and my lasting memories from the night in question, to give you an idea of how much a band could charge for an hour's work back then and just how excellent my music taste has always been.
Michael Jackson at Wembley – July 1997
I'll get this out of the way now, because it's starting to bore even me. The truth is that I still trade off the fact that the first show I went to was Michael Jackson. I'd grown up listening almost exclusively to 'Bad' (fast forwarding 'Liberian Girl', which seemed to be about love – zero interest to a boy of 5 or 6). At Wembley, for Jackson's 'History' tour, my childhood hero entered by bursting through the bottom of the stage in a spaceship. Of course. Cue pandemonium, all the way back to Block 224, Row 11. The door finally fell off the space ship to reveal Jackson, who stood still for another lifetime while people down the front actually fainted. By the time he started singing and dancing, St John's Ambulance were completely fucked. I also remember how later in the show Jackson performed his new single 'Scream' – a duet with his sister Janet. I thought it was strange that Michael had made Janet sing her part from off the stage, but seeing as it was definitely Janet's voice I was hearing on her verses, it was the only explanation. Still, I didn't care – I'd finally seen Michael Jackson, and for just £30.50 of my mum's money (she drove). You could hardly buy a decent suit for that in 1997.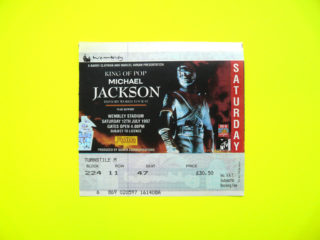 T In The Park 2003
In 2003 I went to T In The Park expecting it to be like the V Festival I'd been to, only with a better lineup. What it was really like, though, was the V Festival an extra 8 hours away from my house. Everyone was completely bolloxed from the off, especially a guy we met early on called 'Monkey', who might not have survived the weekend. We lost Monkey quickly, so we could enjoy buzz-band-of-the-moment Kings of Leon in peace. At the Streets' show, I saw for the first (and last) time a man STOOD on his friend's shoulder completely naked. In the campsite, the tent next to ours was burnt down by the end of the first day. REM and Coldplay headlined.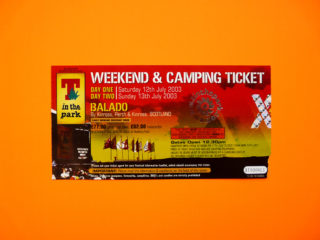 The Strokes at Alexandra Palace – December 2005
The Strokes' Room On Fire Tour is said to be the band's boozy, breakdown tour. I had a great time watching it, next to a guy who'd chosen to wear a white suit, which I respected at the time. I was wearing a Strokes t-shirt – not my finest hour, but better than my Stereophonics-t-shirt-at-a-Stereophonics-show moment. The coolest band on the planet walked on to the coolest song on the planet ('Close To Me' by The Cure), and ended on a cool cover of The Clash's 'Clampdown'. Coolest night ever!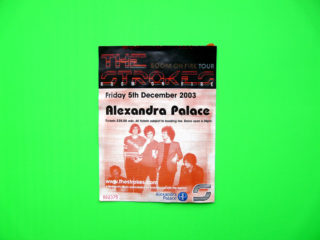 The Shining at Mean Fiddler – October 2002
YES! I SAW THE SHINING! The Shining. The band that featured BOTH Simons from The Verve. John Squire was an early member too, although he'd left by the time of their big, almost-sold-out show at the Mean Fiddler. Well, I liked them.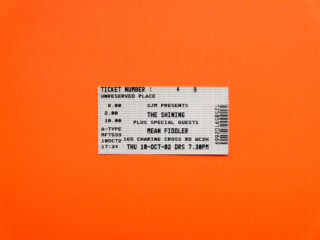 Ryan Adams at Royal Festival Hall – November 2002
Still the most confusing show I've ever been to, and I've seen Dean Blunt since. What I wanted from Adams was the album he was touring, 'Gold'. Instead he played Whiskey Town songs (some old band he used to be in) in darkness, while a man dressed as a clown sat behind him in a spotlight reading a paper. 20 quid I'll never see again.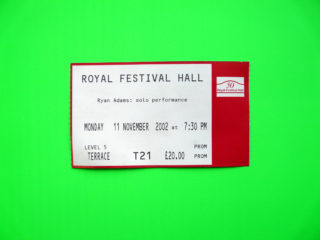 Morrissey at Earls Court – December 2004
The best thing about a Morrissey show is how bloody nice everyone is. They compare Smiths tattoos in genuine appreciation for their common passion and refuse to bunch up, giving you ample space to swing your gladioli. I've seen Mozza a bunch of time, but 2004 was the last time he was touring an album that was any good ('You Are The Quarry'). He even performed then-recent B-side 'Don't Make Fun Of Daddy's Voice', which must have caused the Morrissey-song-title-generator to explode.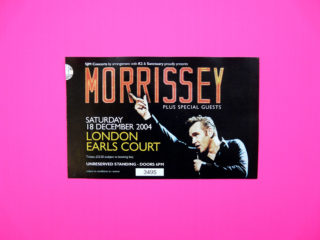 Arctic Monkeys at Southend's Chinnery's – August 2005
Chinnery's is a sea-view venue in my hometown that lacks in everything but enthusiasm. Arctic Monkey's played there just before 'I Bet You Look Good On The Dancefloor' came out, to a around 50 people (a half empty room). Strange that they've not been back since, but there you go. They were good, although I didn't appreciate a snotty Alex Turner (he's always been like that) telling the crowd off for having their arms folded. I mean, they weren't that good. You won't get very far with that attitude, mate.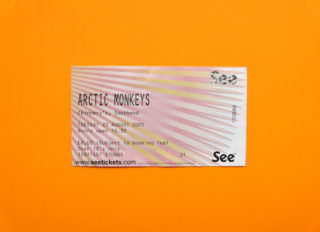 Cream at Royal Albert Hall – May 2005
I went through a bit of a Cream phase at university so went to this show with my friend Neal, his dad and my mum (turns out they knew about the band back in the day). They say band's like that only reform for the money, but I say otherwise. Ginger Baker seemed passionate about all of us buying a Cream t-shirt on our way out. So passionate in fact that he was wearing one himself and mentioned it explicitly on mic more than once.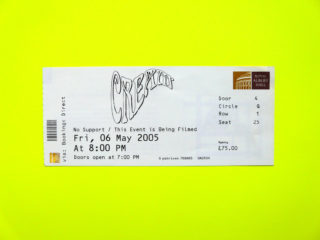 Oasis at Manchester Apollo – October 2001
I didn't pay £23.50 for this show. In our youthful wisdom, my friend and I agreed that we couldn't live with missing this particular tour so on the day of the show we caught the train to Manchester to chance our arm at getting into the Apollo. And we did! Turned out there was a tout outside with a way of getting us in for just £150 quid each, which is too much, isn't it? It all came down to the fact that Noel Gallagher had insisted that on this 10th anniversary tour, of small, back-to-basic venues, Oasis would play certain old songs for the very last time. How were we expected to live without hearing 'Whatever' ever again (save for on record and on a million live bootlegs)? So we coughed up. Noel lied of course, the bastard. But that was what Neal and I liked about him back then.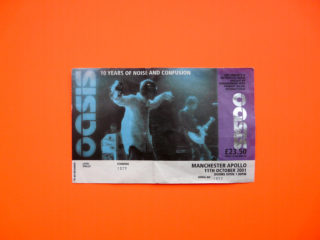 Take That at Milton Keynes Bowl – June 2006
If I was tricked into this show, it didn't take much. Everyone's seen Take That now, of course, but this was before all the new, good music – this was their comeback tour when nobody knew if anyone was going to turn up, like when E17 tried it. It's the only time I've ever been in a Gold Circle, which is Neal's doing again. He'd brought this tickets for his girlfriend and her mates. They'd pulled out and Neal and I stepped in. That's the story I'm sticking to. Nice touch on how the band have cropped Robbie out of the picture on the ticket.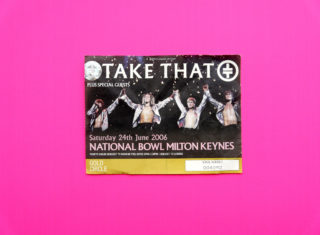 Loud And Quiet needs your help
The COVID-19 crisis has cut off our advertising revenue stream, which is how we've always funded how we promoted new independent artists.
Now we must ask for your help.
If you enjoy our articles, photography and podcasts, please consider becoming a subscribing member. It works out to just £1 per week, to receive our next 6 issues, our 15-year anniversary zine, access to our digital editions, the L&Q brass pin, exclusive playlists, the L&Q bookmark and loads of other extras.