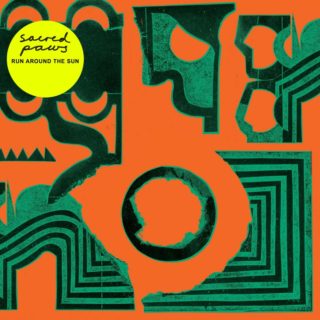 Sacred Paws
Run Around the Sun
7/10
Sacred Paws' debut album, Strike A Match, was created over a distance of 400 miles, with guitarist Rachel Aggs living down south in London and drummer Eilidh Rogers residing up north in Glasgow. These circumstances contributed to an eclectic sound; a varied corpus of songs darting across, and bringing together, indie and Afro-Beats. 
Two years on, Run Around the Sun is bigger and brasher. Finally living in the same city, the duo sing their piece against a background of up-beat guitar riffs, lightning speed drum rhythms and a bustling horn section. It's no-holds-barred music that seeks to take up as much space as possible, with Aggs' idiosyncratic guitar style and Rogers' off-kilter drumming culminating in a joyful cacophony of sound. 
Album opener 'The Conversation' jolts to a start with scratchy, riot grrrl-style feedback, before modulating into well-timed harmonies and a tight, rhythmic melody. On 'Almost It', 'Life's Too Short' and 'Write It Down' the brass elements peppered throughout Strike A Match are amped up to create a robust, textured sound. Lead single 'Brush Your Hair', meanwhile, is an unexpected departure: more mellow than what we've come to associate with the duo, with contemplative lyrics like, "When the seasons change/ it makes me think of you" ruminating on the lasting impact of past relationships. 
Yet even in these moments of vulnerability, the noise doesn't stay muted for long. In a world where genuine emotion is increasingly scarce, Aggs and Rogers are feeling in stereo.
New monthly memberships available
Here's a new thing: our membership scheme now has a pay-monthly option, plus a load of exciting new digital stuff for people who support what we do. It's actually excellent value, honest, and will help us continue to promote new independent artists and labels.
Sign up and you'll receive our physical magazines delivered to your door, our digital editions, exclusive podcasts and playlists and access to our EXTREMELY glamorous Members Lounge. You'll be the envy of all your friends.