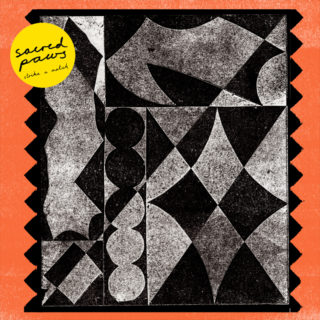 Sacred Paws
Strike A Match
7/10
Musically, London/Glasgow duo Sacred Paws deal in a kind of optimism that could perhaps sound misplaced in a time when people are still reeling from post-Brexit despondency, and of course, that US election result. But in a world where everything feels like it's going backwards, the likes of Sacred Paws are a joyous, much needed anomaly. 
Counteracting the all-too-easy tendency to remain pessimistic during times of crisis, this group's uplifting hybrid of afrobeat and disjointed post-punk on their debut LP draws from the parentage of bands like PYLON et al; adding essential colour to the darkness. It's a sound not too dissimilar to singer and guitarist Rachel Aggs' other bands Shopping and Trash Kit, although there's a more obvious propensity for pop structures here, alongside a heightened use of afrobeat percussion and melodies.
This conflicts with the general consensus that art works best when it reflects the mood of its consumers. Sure, music has always been a triumphant platform for addressing societal woes, but there's also catharsis in escapism. Despite Sacred Paws' musical exuberance, that doesn't mean they are averse to depicting the negative aspects of everyday life. Lyrically, then, 'Strike a Match' focuses on the grievances of love and loss, particularly on the deceivingly upbeat 'Ride', as well as identity and the often neglected subject of getting older on the aptly titled, comparatively downbeat closer 'Getting Old'.
This album negates the more minimal approach of Sacred Paws' 2015's EP 'Six Songs' – while still showcasing the band's innate pop sensibility, it didn't quite elicit their full potential. Here, they add further depth to their sound with the addition of layered guitars, vocal harmonies, and of course Rachel Aggs' prolific use of off-kilter rhythms. Enlisting a brass section, courtesy of Tom Walsh on trumpet, Michael Owers on Trombone and Paul Towndrow on sax, is an even more rewarding development.
It's no surprise drummer Eilidh Rodgers and guitarist Aggs had played together in Golden Grrrls previously, given the obvious connection they share both on record and live. And while Sacred Paws' sound eschews the more tame indie pop of Golden Grrrls in favour of something more diverse and inspired, the two's musical alignment is still palpable: the way in which Rodgers fittingly and effortlessly works with Aggs' wiry guitar parts is an indication of a musical compatibility that's not always easy to find. 'Strike a Match' succeeds in its vibrancy and genre defiance, but there is a feeling Sacred Paws still have a lot more to give.
Free Protomartyr flexi disc with this month's magazine
Subscribers to Loud And Quiet now receive a limited edition flexi disc of a rare track with their copy of the magazine
This month's disc is from Detroit punk band Protomartyr