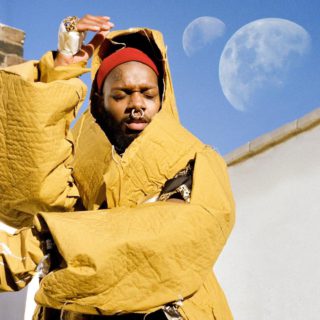 Biblically, the prelapsarian snake was a form taken by the devil to tempt Eve into eating from The Tree of Knowledge, to which she did. This act is considered the 'fall of man'. And among Abrahamic people it represents a tradition – a presentation symbolical of moral and religious truths. So, considering this prelapsarian snake and its ties to the original sin, we are met with serpentwithfeet – a tattooed pentagram inhabiting his forehead, along with two words: 'HEAVEN' and 'SUICIDE'. There is an indisputable satanic air.
Yet the Baltimore-born Josiah Wise produces an angelic voice, pure and unwavering. 'cherubim' exemplifies this perfectly, not only a continuation of the biblical themes, but an inversion of them. 'Boy, every time I worship you, my mouth is filled with honey / Boy, every time I build your throne, I feel myself growing,' serpent sings alluding to the act of fellatio. Returning to this idea of 'the fall of man', in the trajectory of 'soil', 'cherubim' calls back to the cherubs God placed on the entrance of the Garden of Eden, ensuring neither Adam or Eve could eat from the "tree of life" and become immortal. However, the story here is twisted, 'cherubim' is a song of self-discovery; being unsure of your one's sexuality. 
This dichotomy between the black, gay existence and one of Christianity is present throughout the whole, intensely spiritual album as mantra-like abstractions fill its repertoire. It would be easy to place Wise within a lineage of African American Spiritualism – Alice Coltrane, Pharaoh Sanders, Sun Ra. Similarly, it is clear he also belongs to a lineage of black classical singers who, for one reason or another, invested their talent outside the classical white realm – Nina Simone and Kirk Franklin come to mind. The expulsion of African-American innovation from the widely accepted canonical narrative is representative of the culture of exclusions that is still largely prevalent.
Despite this apparent easy-placement in the continuum of music, serpentwithfeet exists beyond genre. 'soil' is supported by production marked with a joyful indeterminacy (in a good way) – Katie Gately, mmph, Clams Casino and Paul Epworth all contributed, leaving the album sounding remarkably collaborative, while the words were solely penned by Wise – sweet whispers of love in all forms; unrequited, lost, new-found etc. 'I call all your ex boyfriends, and ask them for a kiss,' he croons on 'fragrant'. It's destructive in how personal it is.  
Please support Loud And Quiet if you can
If you're a fan of what we do, please consider subscribing to L&Q to help fund our support of new musicians and independent labels
You can make a big difference for a few pounds per month, and in return we'll send you our magazines, exclusive flexi discs, and other subscriber bonus bits and pieces
Try for a month and cancel anytime