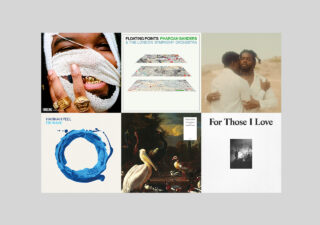 The 10 best albums from March 2021
Some spring sunshine for your ears
It's been a whole year since the start of our collective solitude, but the best sounds from March 2021 have been (mostly) collaborative. Whether the inspiration has been found in Lebanese torch songs or Monty Don, whether its creators are a songwriter inspired by his local waterfowl or the best tenor sax in the world, here are ten favourites records ready to usher in another spring.
Artist: Floating Points, Pharoah Sanders & The LSO
Title: Promises
Label: Luaka Bop
What is it? A remarkable collaboration between a calmer-by-the-minute electronic producer and a free jazz luminary, championing melody and texture.
L&Q says: "From the point of view of how much can be done with such sparse foundations, how to bring together fairly disparate musical worlds, and how captivating a recording can be, Promises is astonishing."
Read Sam Walton's full review here.
Artist: Genesis Owusu
Title: Smiling With No Teeth
Label: House Anxiety
What is it? An early contender for debut album of the year with an uncategorisable blend of pop, R&B, industrial music and more.
L&Q says: "Wildly ambitious in scope, there are moments where it snaps into industrial grooves worthy of Trent Reznor, and others where Owusu transforms into an Aussie D'Angelo."
Read Mike Vinti's full review here.
Artist: William Doyle
Title: Great Spans of Muddy Time
Label: Tough Love
What is it? The result of a hard-drive failure and locked down days watching Gardener's World from the man formerly known as East India Youth.
L&Q says: "Foraging further into the wilderness, Doyle has uncovered a maximalist Lynchian heaven from the undergrowth."
Read Tristan Gatward's full review here.
Artist: G. S. Schray
Title: The Changing Account
Label: Last Resort
What is it? All soft-focus arrangements, floating percussion and Durutti Column guitars, the new one from G.S. Schray melds ambient, jazz and experimental music with subtlety and charm.
L&Q says: "This is an album to savour and replay on the heavy, claggy days."
Read Cat Gough's full review.
Artist: Lady Blackbird
Title: Black Acid Soul
Label: Foundation
What is it? A timeless debut album and powerful new voice capable of conveying century-old pain and struggle.
L&Q says: "Coming nominally from a jazz background, this album does not belong to a genre, but to a singer with the scope to oversee where different genres meet."
Read Max Pilley's full review here.
Artist: Matthew E. White & Lonnie Holley
Title: Broken Mirror: A Selfie Reflection
Label: Spacebomb
What is it? A discarded set of dust-gathering demos and sketches by White, revitalised by the feeling-driven work of experimental artist Holley.
L&Q says: "the collaborative partnership between Matthew E. White and Lonnie Holley is a natural one – a case of the right place at the right time leading to the creation of the right songs for this moment."
Read Zara Hedderman's full review here.
Artist: YUNGMORPHEUS
Title: Thumbing Thru Foliage
Label: Bad Taste
What is it? Like the Greek mythological figure from whom he draws his name, YUNGMORPHEUS has an uncanny ability to make sense of chaos through a simple line or quip.
L&Q says: "His smoky boom-bap is a tonic for our confused times."
Read Cal Cashin's full review here.
Artist: Hannah Peel
Title: Fir Wave
Label: My Own Pleasure
What is it? An uncompromising collage of submerged ambient synths and up-tempo beats in artistic dialogue with Delia Derbyshire and the radiophonic workshop.
L&Q says: "More powerful than lyrics, each track communicates its own panorama."
Read Ollie Rankine's full review here.
Artist: Serpentwithfeet
Title: DEACON
Label: Secretly Canadian
What is it? The latest from Josiah Wise is sparse, vulnerable, and frequently gorgeous. It casts its stylistic net wide, taking in a host of genres, but at heart, it's a soul record, in the truest sense.
L&Q says: "In general, the compositions here are by a distance the lightest and airiest that Wise has yet put forward."
Read Joe Goggins' full review.
Artist: For Those I Love
Title: For Those I Love
Label: September
What is it? An intensely rich and moving account of friendship, love loss, confusion and pain from Dublin spoken word poet David Balfe.
L&Q says: "Rolling up and down on emotional highs and lows that feel somewhat like being at the mercy of an expanding and raging ocean tide, Balfe's record resuscitates listeners."
Read Isabel Crabtree's full review here.
Please support Loud And Quiet if you can
If you're a fan of what we do, please consider subscribing to L&Q to help fund our support of new musicians and independent labels
You can make a big difference for a few pounds per month, and in return we'll send you our magazines, exclusive flexi discs, and other subscriber bonus bits and pieces
Try for a month and cancel anytime