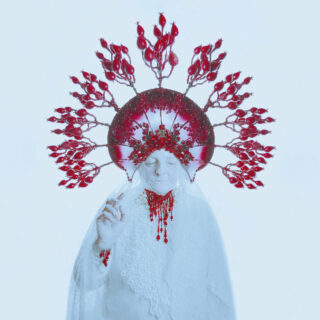 Sleep Party People
Heap of Ashes
6/10
A Sleep Party People album in 2022 isn't exactly an exciting prospect. The project of Danish musician Brian Batz feels like something of a relic: a dream pop/shoegaze act that, while never quite uttered in the same breath as Wild Nothing or LSD and the Search for God, was at least a going concern in the deeper reaches of their 'Similar To' tabs on Last.FM. Maybe you had a friend who swore 2012's We Were Drifting On A Sad Song was the best thing they'd ever heard, but it seems so quaint and stuck in its age now – and consequent efforts haven't fared much better.
Heap of Ashes represents the change that was sorely needed even as it heralds a much darker sound. Instead of the tired piano intro we might expect at the opening of this album, we get 'It Won't Be Cinematic', its fuzz-soaked percussion gnarled, its strings – contrary to its title – heightened and dramatic. 'Tide' ups the ante with full-on black metal dynamics, all dungeon-dweller screams and unbearable tension not too dissimilar to The Body, while even more conventional songs like the Sound of Ceres feature 'Moldering Fragments' gel with the heavy atmosphere thanks again to some well-placed string arrangements and truthfully some expert noise-inspired sound design in line with someone like Scott Walker. It's all very self-serious doom and gloom, but Batz and the Sleep Party People moniker come off as the sympathetic underdog; ultimately, someone you can root for.
It's a fascinating and forward-thinking place for a decade-plus musical act to be – and in a way, only acts with little left to lose like Sleep Party People can really pull it off. It bodes well for Batz that Heap of Ashes is more a violent purge than a breath of fresh air.