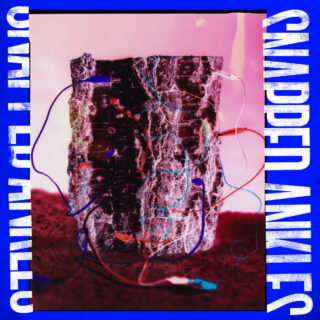 Snapped Ankles
Forest Of Your Problems
(LEAF)
8/10
Snapped Ankles emerged four years ago from the depth of East London's underground scene as a peculiar creative outlet, staffed by apparently anonymous dropout woodland creatures, hidden in ghillie suits and playing hand-made gears assembled with analog vintage synths strapped to logs. The way they positioned themselves as such oddities, such outliers, has always allowed them the space for fierce criticisms of contemporary society. This radical position, though, has softened a little, record after record. Smart suits took the ghillies' place, and nicknames for the components of the band surfaced amidst public performances in big festivals and radio shows. What do they do? Who are they? Their Bandcamp bio couldn't be any less specific: "AGROcultural LogtroniCA from AnaLOGe Dendrophilia Mediators Est8Agents Forests".
After three albums and a few line-up changes, Snapped Ankles are now back with their Forest Of Your Problems. As the title suggests, the woodland is still an inherent inspiration for the band's music, but here all its naturalistic quality is lost: now, business is the unmoved mover of a depraved humanity. A heavy influence of late-'70s post-punk colours the band's signature kraut-shaded tribalism, a Goat-meet-The-Fall soundworld that perfectly captures the group's psychotic, eerie vision of the Anthropocene. A collection of hideous people, populating a space that once was the symbol of the purity and connection to the inner self. A decay so bad that it leads to the subversion of what were once comfort zones: "What's your phobia? / Xylophobia!" repeats the chorus of 'Xylophobia', literally the Greek name for the fear of wooded areas. Technology has now permeated the once pure land of the woodwoses; and with their mind-altering resonance, Snapped Ankles are here to remind us that paradise is forever lost.
Loud And Quiet could do with your help
We love making Loud And Quiet – our magazines, this website, our podcasts and more – but it's become increasingly difficult for us to balance the books.
If you're a reader who'd like to help us keep the show on the road, please consider becoming a Loud And Quiet member. There are options to receive our physical magazines and lots of other extras that are exclusive to our supporters.